Concussion Awareness: A Leading Cause of Long-Term Disabilities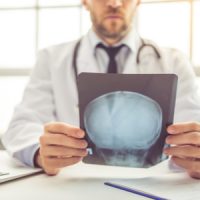 Concussions are one of the most common types of personal injuries. They occur due to any type of sudden blow or jolt to the head and may happen at work or while engaged in a variety of activities. Unfortunately, even a relatively minor concussion can leave you suffering from long-term disabilities. It is important to be aware of the symptoms of concussion and any long-term disability benefits you have in place that can help defray your costs.
Raising Awareness About Concussion Risks
Any type of head injury can leave you suffering from a concussion. A common type of traumatic brain injury (TBI), concussions occur when sudden bumps, blows, or jolts to the head cause the brain to shift back and forth within the skull, potentially damaging cells and tissues. Concussion symptoms are often subtle at first, which can often lead victims to not get the medical care they need. However, even if you only suffer a mild case, a concussion can result in permanent disabilities.
To increase the general public's knowledge of this dangerous condition, concussion awareness weeks are held several times during the year. Recognize to Recover, a program sponsored by the US Soccer Federation, is one of many groups to participate and sponsors concussion awareness events each October. Sports and recreational activities are one of the most frequent ways for concussions to occur. Other common causes include:
Car accidents;
Motorcycle accidents;
Bicycle and pedestrian accidents;
Slips, trips, and falls;
Getting struck by or against objects in public places;
Household accidents;
On the job accidents;
Accidents involving dangerous and defective products.
Whenever any type of bump or blow to the head happens, it is important to get medical care immediately. Not doing so could jeopardize your health as well as your rights in a long-term disability claim.
Concussions and Long-Term Disabilities
According to statistics from the Centers for Disease Control and Prevention (CDC), close to three million people visit hospital emergency rooms for concussions each year. Symptoms often include headaches, loss of balance, confusion, and nausea or vomiting. Even with immediate medical care, long-term disabilities can result. These may impact the following areas:
Cognitive skills, such as memory and reasoning;
Senses, including vision and hearing;
Language, impacting your ability to communicate or understand what is being said;
Emotions, resulting in dramatic personality chances and increased risk of depression, anxiety, aggression, and social inappropriateness.
The CDC warns that brain injuries that result from concussions can also cause epilepsy and increase your risk of suffering conditions such as Alzheimer's and Parkinson's disease. When symptoms you experience due to concussions prevent you from working, you may be entitled to long term disability benefits through your employers.
Contact Us Today for Help
While you focus on recovering from a concussion, Farrell Disability Law can focus on getting you the long-term disability benefits you deserve. Call or contact our Jacksonville long-term disability attorney to request a consultation in our office today.
https://www.mydisabilitylaw.com/documenting-your-long-term-disability-during-coronavirus-closures/