Avoid These Five Common Mistakes When Filing For Long Term Disability Benefits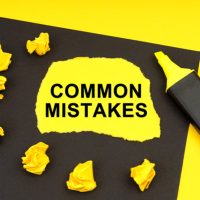 Long term disability benefits provided through your employer help offset lost wages if you are unable to work. Unfortunately, many claims end up being denied due to mistakes during the application process. As an experienced Jacksonville long term disability attorney, we can advise you on how to avoid this. The following are five of the most common mistakes in filing claims. 
Not filing a claim within required time frames.
According to the Bureau of Labor Statistics (BLS), over half of all workers are provided with long term disability benefits through their employers. As with any insurance representative, be aware that they have a financial motive to deny your claim. One of the most common reasons is failure to file within required time frames. We advise filing the first day you are no longer able to work.
Not properly documenting your disability.
The disability claim process begins long before you ever notify the insurer. Visiting your doctor and having them properly diagnose you is the first step. You will need to see them regularly and report any new symptoms you experience. Records from these visits provide important evidence in your claim.
Not following your doctor's instructions.
In addition to visiting your doctor regularly, be sure and follow all of their recommendations. This includes undergoing diagnostic testing and treatment, visiting specialists, taking prescribed medications, and attending all follow-up visits. Pay attention to activity restrictions as well.  Insurers look for evidence to deny claims. If they find out you engaged in certain types of recreational activities or even performed simple home repairs when instructed not to, they could use that information against you.
Not communicating with the insurer.
Once you file your claim, be alert for any correspondence you receive from the insurer. Open mail immediately and return phone calls promptly. They may contact you to get clarification about your claim, to request additional documentation, or to schedule a visit with one of their medical providers. Not communicating with them will result in denial of your claim.
Your disability falls under policy exclusions.
Take the time to thoroughly read through all long term disability policy documents prior to filing a claim. Under the Employee Retirement Income Security Act of 1974 (ERISA), your employer must provide free copies, at your request. Pay close attention to the Summary of Benefits, included in the first pages. You want to verify your condition is indeed covered and not included under policy exclusions.
Let Us Help You Today 
When long term disability benefits get denied, it could be due to mistakes on your part. However, it could also be due to mistakes on the part of the insurer. To prevent any type of errors from happening and impacting your rights in a claim, reach out to Farrell Disability Law.  Call or contact our Florida long term disability attorney online. To and request a consultation in our office.