Common Causes of Long-Term Disability Among Young Adults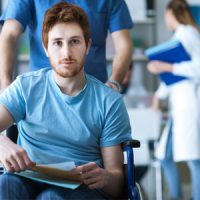 Your 20s and early 30s are active working years. Young people at these ages are often busy building both income and their careers. Unfortunately, long-term disabilities can easily wreak havoc with your plans. Along with jeopardizing your health, they put both your current and future financial security at-risk. To protect yourself, be aware of how long-term disabilities often happen and how LTD benefits can help.
Young Adults and Long-Term Disabilities
It is easy for young people to take advantage of their good health. Some burn the candle at both ends, indulging in bad habits and not getting enough sleep. Others are more mindful, carefully watching the types of foods they eat, getting plenty of exercise, and generally leading a healthy lifestyle. Regardless of which end of this spectrum you fall on, it is important to be aware of the risks.
Young people are just as likely to suffer long-term disabilities as older adults, though the reasons often differ. For people in their 20s and early thirties, common causes include:
Car accidents: According to the American Automobile Association (AAA), people between the ages of 21 and 35 are nearly twice as likely to be involved in car accidents than their older counterparts. Injuries that result can cause long-term disabilities.
Sports and recreational accidents: While hobbies such as bicycling, boating, or hiking, and participating in sports activities can all help to keep you physically fit, they also create injury risks. Disabling injuries and chronic health conditions can happen due to accidents or overuse.
Unexpected illnesses and diseases: Serious illnesses can happen unexpectedly among young people and your family history may put you at greater risk for certain diseases that can cause long-term disabilities.
Mental health issues: The National Institutes of Health (NIH) warns that large numbers of young adults today suffer mental health issues due to difficult childhoods, traumatic events, and chemical imbalances. Long -term disabilities that prevent you from working can arise from conditions such as anxiety, depression, bi-polar disorder, and other mental health issues.
How Long-Term Disability Benefits Can Help
As a young adult, when long-term disabilities happen benefits available through your employer can help you maintain your independence and meet basic living expenses. It is important to check to see if these benefits are included as part of your overall compensation package. If they are, you will also want to check the terms of coverage. Under the Employee Retirement Income Security Act of 1974 (ERISA), you have the right to request a copy of all policy documents, free of charge. Review these carefully and pay close attention to the following:
When the policy goes into effect;
The portion of your income that is covered;
Time limits for benefits;
Any conditions that may be excluded from coverage.
Let Us Help You Today
When long-term disabilities happen, Farrell Disability Law is here to help you get the benefits you are entitled to. Contact our Jacksonville long-term disability attorney and request a consultation in our office today.
https://www.mydisabilitylaw.com/six-things-you-need-to-know-about-employer-provided-long-term-disability-benefits/