Documents You Need When Applying For Social Security Disability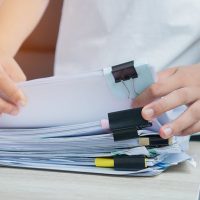 Social Security disability benefits may be available if you are unable to work for a year or longer and can help offset lost income. Unfortunately, the application process is notoriously difficult, and the majority of claims end up being denied. One of the most common reasons is the failure to provide all required supporting documents. To increase your chances of success, our Jacksonville Social Security disability lawyer lists the various items you will need.
Basic Information Needed When Applying For Social Security Disability In Florida 
If you suffer a chronic health condition, a serious illness, or disabling injuries, you may be entitled to disability benefits in Florida through the Social Security Administration (SSA). However, be aware that the application approval process is lengthy and can take a year or longer.
Unfortunately, the SSA is also known for routinely denying benefits. As many as two-thirds of all claims get denied. Failure to provide the required information is one of the most common causes. Basic information needed includes:
Your birth certificate;
Proof of U.S. citizenship or lawful alien status if not born in the U.S.;
Your social security number;
Social security numbers for any current or former spouses and your children;
Military discharge papers if you served prior to 1968;
Information detailing any Social Security benefits, Medicare, or Supplemental Security Income you or other family members receive;
Proof of any workers' compensation benefits you received;
Copies of paystub, W-2 statements, and recently filed tax returns. 
Documents Needed To Prove Long-Term Disability 
To be eligible for Social Security disability benefits, you need to have earned the required amount of work credits. You will also need to prove you have a qualifying condition, as defined by the SSA's Listing of Impairments. This is likely the biggest obstacle you will face. Documents that can help support your claim include:
Statements from your doctor confirming explaining your diagnosis and confirming you have a disability that prevents you from working for a year or longer;
Medical records, showing previous care and how your condition has progressed over time;
Test results, treatment outcomes, referrals to specialists, and notes from physical therapists;
A list of all current and prior medications;
Statements from your employer, explaining how your condition impacts you on your job;
Statements from you and your family detailing the impact your condition has on other areas of your life.
Get Our Florida Social Security Disability Lawyer On Your Side 
Long-term disability benefits can help make up for lost income in the event you are unable to work for a year or longer. Unfortunately, getting your claim approved is likely to be a challenge. To prevent denials, or to appeal a prior denied claim, get Farrell Disability Law on your side.
Our Florida Social Security disability lawyer has extensive experience handling these claims and can help you get the total benefits you are entitled to. Call or contact us online and request a consultation in our Jacksonville or Orlando office today.
Sources:
ssa.gov/benefits/disability/
ssa.gov/forms/ssa-16.html#:~:text=W%2D2%20forms(s),and%20recent%20test%20results%3B%20and
ssa.gov/disability/professionals/bluebook/AdultListings.htm