Five Things You Need To Know About Social Security Disability Benefits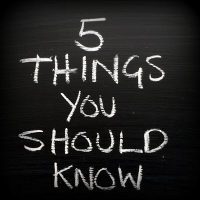 If you suffer from long-term disabilities that prevent you from working, Social Security disability insurance (SSDI) benefits can serve as a lifeline, providing the income you need to pay housing, food, and other expenses. The following are five things you need to know about the program and these benefits:
Eligibility for Social Security benefits is based on your work history. 
Available through the Social Security Administration (SSA), eligibility for SSDI benefits are based on your work history. You must have worked in a job that deducted Social Security taxes from your paycheck and earned enough work credits, which are awarded on a yearly basis. The amount you are entitled to collect is largely dependent on your prior income.
You must have a qualifying condition.
In addition to having earned enough work credits, you must also have a qualifying condition. The SSA maintains a long listing of impairments, which includes respiratory issues, problems with the digestive system, neurological disorders, musculoskeletal conditions, and mental health issues. Meeting a listing is one way to qualify for benefits.  Your condition must prevent you from working for at least a year or longer and be thoroughly documented by a doctor. Lack of documentation regarding disability is a common reason for denied SSDI claims.
You may be entitled to other benefits.
If you do have long term disability insurance through a prior job or a private company, you may be able to also collect on these benefits while getting SSDI, although the amount your insurer pays will be reduced. You may also be entitled to Supplemental Security Income (SSI) benefits through the SSA, provided your income falls below a certain level.
Your spouse's income does not count towards SSDI but your children may qualify for benefits.
In determining eligibility for Social Security disability, the SSA looks only at your income, not at your spouse's. Regardless of how much they make, you may still be eligible for SSDI benefits provided you meet other requirements. If you have children, they may also be eligible to collect on your benefits. Minor children are eligible as are disabled children between the ages of 18 and 22.
Social Security disability application denials are common.
According to the National Institutes of Health (NIH), more than half of all SSDI applications are denied the first time they are submitted. Failure to submit the appropriate forms or thoroughly  document your condition are among the most common causes. To increase your odds of getting your claim approved-and your benefits in the quickest amount of time possible-get our Florida Social Security disability attorney on your side. 
Contact Us Today for Help 
At Farrell Disability Law, we can guide you through the SSDI application process, helping you get the maximum amount of benefits you deserve. If your claim is denied, we provide the professional legal representation you need in filing an appeal. To request a consultation in our office, give us a call or contact our Orlando Social Security disability attorney online today.