Maintaining Your Quality Of Life When You Suffer Long-Term Disabilities In Florida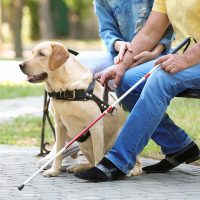 Suffering from any type of condition that prevents you from working or engaging in your usual hobbies and activities can have detrimental effects on both your physical and mental health.  If you are one of the many people who suffer long-term disabilities in Florida, it is important to be aware of ways to maintain your quality of life. Our experienced Orlando long-term disability lawyer offers tips to protect yourself and your peace of mind.
Living With Long-Term Disabilities
Long-term disabilities can happen due to sudden injuries and illnesses or as a result of ongoing, chronic medical conditions. According to the Centers for Disease Control and Prevention (CDC), more than 61 million Americans currently live with some type of disability.
Stress, strain, and isolation that often occur as a result only make matters worse. To protect your health, follow these tips for living with long-term disabilities in Florida:
Visit your doctor regularly.
Find a medical provider you can trust and develop an ongoing relationship with them. Report all symptoms you suffer from, get an official disability diagnosis, and undergo all recommended testing and treatment.
Make your health a top priority.
While long-term disabilities often happen through no fault of your own, there are actions you can take that can make a major difference in how you feel and how your condition progresses. Make maintaining your health a top priority by eating well, getting enough rest, participating in doctor-approved exercise programs, and avoiding smoking, excessive drinking, or other harmful behaviors.
Get the support you need.
Asking for help is difficult for many people, but it is important to let family and friends know about the struggles you face. Be aware of resources available in the community as well, such as those offered in Tampa and throughout Hillsborough County.
Develop a long-term care plan.
It is natural to feel a certain amount of fear about the future if you suffer long-term disabilities that impact your health and ability to provide for yourself. Making plans now for any future long-term care needs can help to provide peace of mind.
Be aware of your rights to benefits. 
Loss of income is a major obstacle for people who suffer from long-term disabilities in Florida. Financial problems can have dramatic impacts on your quality of life and your ability to take the steps needed to protect yourself, both now and in the years to come. Long-term disability benefits provide a safety net in this situation. These may be available through your employer, privately purchased long-term disability insurance policies, or the Social Security Administration.
Request A Consultation With Our Florida Long-Term Disability Lawyer
If you are living with long-term disabilities, benefits you may be entitled to can help protect your health and quality of life, now and in the future. At Farrell Disability Law, we provide the trusted legal guidance you need to get the total amount you are entitled to. Call or contact our Florida long-term disability lawyer online and request a consultation in our Orlando or Jacksonville office today.
Sources:
cdc.gov/ncbddd/disabilityandhealth/infographic-disability-impacts-all.html
hillsboroughcounty.org/en/residents/social-services/special-needs
ssa.gov/benefits/disability/