When To Begin Planning For Long-Term Disabilities That Could Impact You In The Future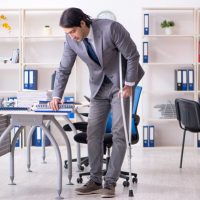 Long-term disabilities can happen suddenly due to unexpected injuries or a major health crisis, such as a heart attack. However, in many cases your condition is likely to progress slowly, impacting you both at home and on the job years before you are unable to work.
Waiting until you are completely disabled prior to reviewing long-term disability (LTD) benefits or gathering information needed in filing a claim could result in lengthy delays and denials. Our Jacksonville long-term disability lawyer recommends steps to take now to reduce the odds of these types of problems, which could jeopardize your financial security in the future.
Are Long-Term Disabilities In Your Future?
Disability insurance helps to prevent lost income when injuries, illnesses, or chronic health conditions prevent you from working. As the name implies, short-term disability insurance protects you in the event your health prevents you from working for weeks or months at a time. Long-term disability (LTD) insurance covers a portion of your lost wages if you are unable to work for a year or longer.
According to the Insurance Information Institute (III), one of the key differences between them, aside from when you are covered, is the waiting time to begin receiving benefits. Short-term disability policies typically have a waiting period of zero to 14 days. In contrast, the wait time to begin receiving LTD payments is generally months. That means you need to look ahead and see whether your current health conditions, your lifestyle and activities you engage in, or your family history could result in long-term disabilities in your future.
Anticipate Being Unable To Work
While you cannot predict what the future will bring, you can plan ahead. Consider your odds in terms of accidental injuries and serious illnesses, as well as how any current health conditions could progress. Actions you can take now to avoid lengthy delays or denial of long-term disability benefits when you need them include:
Review your coverage: Review employer-provided disability benefits, those you may be entitled to through the Social Security Administration (SSA), and whether you may need additional coverage through a private policy.
Visit your doctor regularly: Report any symptoms, undergo necessary testing, and follow treatment recommendations for any chronic health conditions.
Keep your records organized: Maintain a file with medical records, detailing doctor visits, test results, medications, and any specialists you visit. Keep an up-to-date employment history as well, noting the reasons for any absences.
Document your progression: If you suffer a chronic condition or repeatedly see a doctor for the same symptoms, begin keeping a journal detailing your progression and the impacts on your daily activities that result.
Contact Our Florida Long-Term Disability Lawyer
Taking a few simple steps can protect your financial security in the future. For help in filing a long-term disability claim or to appeal denied LTD benefits, reach out to Farrell Disability Law. Call or contact our Florida long-term disability lawyer online and request a consultation in our Orlando or Jacksonville office today.
Sources:
iii.org/article/what-are-types-disability-insurance
ssa.gov/benefits/disability/