10 Common Mistakes When Filing A Long Term Disability Claim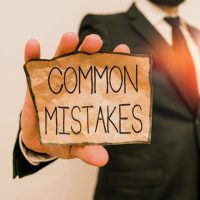 Long-term disability insurance available through your employer provides important protections, reimbursing you for lost wages in the event you are unable to work for a year or longer. Unfortunately, many people make mistakes when filing their claims, resulting in denials or delays. The following are 10 of the most common to avoid:
Not going to your doctor regularly. 
The Centers for Disease Control and Prevention (CDC) advises that long-term disabilities often result due to chronic health conditions, such as arthritis, diabetes, heart disease, musculoskeletal conditions, and respiratory issues. Visit your doctor regularly to manage your condition and to provide documentation for long-term disability (LTD) claims.
Not following their recommendations regarding your care and any work or activity restrictions. 
In addition to regularly attending doctor visits, it is important to follow their recommendations regarding referrals to specialists, diagnostic testing, treatments or rehabilitative therapy, and prescribed medication. Adhere to any work or activity restrictions as well.
Not getting an official disability diagnosis. 
Communication problems between doctors and patients are unfortunately common. If you feel your doctor does not take your condition seriously or fails to diagnose your disability, visit someone else. 
Not keeping a journal of how your disability impacts other areas of your life. 
Medical records make up an important part of your long-term disability (LTD) claim. You should also keep a daily journal, chronicling your condition, medical care, and impacts you suffer at home or on the job.
Not filing your claim as soon as you are disabled. 
Insurers generally have up to 90 days to approve or deny your claim. Requests for additional information could extend this time further. Filing an LTD benefits claim the first day you are unable to work can decrease wait times for your benefits. 
Not being familiar with all the terms of your policy. 
Under the Employee Retirement Income Security Act of 1974 (ERISA), your employer is required to provide you a copy of all policy-related documents, free of charge and at your request. 
Not communicating with your insurer regularly. 
Respond promptly to all communications from your insurer and keep records of your correspondence.
Not completing all required forms. 
Not completing all required forms results is a common cause of delays and denied claims.
Not protecting your privacy on social media. 
Avoid posting on social media while collecting or waiting to be approved for long-term disability benefits. This is one of the first places insurance investigators look for evidence to use against you. 
Not contacting a long-term disability attorney, particularly if your claim is denied. 
Having an experienced Florida long-term disability attorney on your side can prevent mistakes that result in denied or delayed claims. We can also guide you through the complex process of filing an appeal.
Let Us Help You Today 
To avoid common mistakes that could impact your rights to LTD benefits, contact Farrell Disability Law. Request a consultation with our Jacksonville long-term disability attorney in our office today.
Source:
cdc.gov/ncbddd/disabilityandhealth/relatedconditions.html