Appealing A Denied Employer-Provided Long-Term Insurance Claim In Florida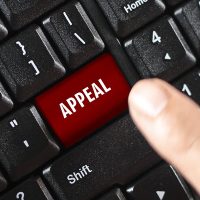 Long-term disability insurance may be part of your employer-provided compensation package. You may be entitled to benefits that can help offset lost income in the event you are unable to work for a year or longer. Unfortunately, many people end up filing a claim only to have it denied. Our Orlando long-term disability lawyer explains the process for filing an appeal.
Determining Why Your Claim Was Denied
According to the Bureau of Labor Statistics, close to 40 percent of all workers have employer-provided long-term disability coverage. This protects you in case of an injury, illness, or chronic condition that prevents you from working. These benefits usually cover up to two-thirds of your lost wages, which can help in ensuring you are still able to provide financially for yourself and your family.
Unfortunately, it often comes as a shock to file a long-term disability claim only to have it denied. In this situation, it is important to remember that you are dealing with insurers, who have a financial motive for avoiding payouts. You are entitled to appeal their decision and the first step is generally determining why you were denied. The following are among the most common reasons:
There is a problem with your policy, such as disputes over effective dates;
You do not have a covered condition;
You failed to file the appropriate forms;
You did not submit medical records or other documentation needed to approve your claim.
The Process Of Filing A Long-Term Disability Appeal
Under the Employee Retirement Income Security Act of 1974 (ERISA), you are entitled to copies of all policy documents, free of charge and at your request. Review these carefully to determine why you were denied and your rights in filing an appeal. ERISA also dictates the disability appeals process:
You generally have either 60 or 180 days after receiving a denial to notify the insurer of your intent to appeal.
The next step is to appear before an administrative judge, who will review all the details surrounding your case.
If you are denied again, a hearing before an administrative panel is held.
If you continue to be denied benefits, you then have the right to take your case to court.
To get the best results in this process, get an experienced Florida long-term disability lawyer on your side as soon as possible. We review your claim, gather additional evidence as needed, and communicate with insurers on your behalf. We provide the professional representation you need in appearing before the judge, the administrative panel, or in court and can make strong, effective legal arguments to help in getting your claim approved.
Contact Our Florida Long-Term Disability Lawyer Today
Insurance companies are quick to deny employer-provided long-term disability insurance claims. To protect your rights to these benefits, get the strong, professional legal representation you need at Farrell Disability Law. Call or contact our experienced Florida long-term disability lawyer online to request a consultation in our Orlando or Jacksonville office today.
Sources:
bls.gov/opub/ted/2020/short-term-and-long-term-disability-insurance-for-civilian-workers-in-2020.htm
dol.gov/general/topic/retirement/erisa#:~:text=The%20Employee%20Retirement%20Income%20Security,for%20individuals%20in%20these%20plans.