Appealing A Long-Term Disability Insurance Denial In Court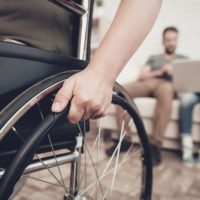 Long-Term Disability (LTD) insurance is intended to provide a policyholder with a replacement of income if he/she becomes disabled for a long period of time. Typically, however, the LTD insurance company will require definitive proof of the disability, as well as confirmation of the length of the disability, before it will pay out according to the policy. In some cases, this can be a very frustrating experience. Consequently, retaining the services of an attorney experienced in LTD matters can be crucial to ensuring that the insurance company is held to the terms of the insurance policy. Recently, a former NFL player successfully sued to collect on the disability insurance he had with the NFL. A discussion of the laws governing the interpretation and enforcement of LTD policies, and the differences between litigating denials of coverage for private and group employee disability policies, will follow below.
Private v. Employer
There are two ways in which an employee can obtain LTD benefits – privately or as part of a group plan offered by his/her employer. If purchased through the group plan, the LTD policy is governed by the Employees Retirement Income Security Act (ERISA); if bought privately, it is governed according to the terms of the insurance contract. ERISA is a federal law that has effectively superseded the terms of the insurance contract between the insurance company and the insured individual.
Differences
As a result of the different terms governing the two types of LTD policies, there are also differences in trying to appeal a denial of benefits. Some of the more significant differences between private LTD policies and group, or employer-provided, LTD policies include the following:
Since ERISA is a federal provision, all appeals from a denial of a group LTD policy must be brought in federal court. Further, since ERISA was developed by Congress in conjunction with the insurance companies, the laws controlling how they are applied may be skewed in favor of the insurance company. By contrast, a privately-purchased policy may be brought in state court, under legal rules and procedures that may be more favorable to the policyholder.
Privately-bought LTD insurance may, at the insured's choice, be decided by a jury of his/her peers, as opposed to a federal judge.
No additional evidence may be submitted for the appeal of a denial of a group LTD insurance policy. By contrast, this restriction does not apply to appeals of private disability policies.
Discovery (gathering information and evidence). In a privately-purchased LTD insurance appeal, the plaintiff may conduct discovery relating to any issue relevant to the appeal, including the right to bring expert witnesses to support the appellant's claim. Unfortunately, with an appeal of most group LTD plans, this expanded discovery is not permitted, in light of the restriction on evidence, mentioned above.
A successful legal appeal of a denial of group LTD insurance can only award a lump-sum payout of the policyholder's actual policy benefits (that is, what he/she would have been paid in the first place), a clarification of the policyholder's rights under the plan going forward, and, in some cases, attorney's fees. By contrast, a privately-purchased LTD policy allows a successful appellant to recover several types of damages from the insurer, such as pain and suffering, emotional distress, bad faith and punitive damages.
Get Help
If you have received a denial on a previously-filed LTD benefits claim, and are curious about any options you may have at your disposal, including whether you have the ability to file a complaint in court, contact an experienced LTD benefits attorney as soon as possible. The legal team at Farrell Disability Law has the experience necessary to analyze your claim will help you develop a strategy to get you the benefits you deserve. Contact our Jacksonville office today.
Resource:
law360.com/articles/1054307/ex-nfler-wins-fight-with-league-over-disability-benefits