Can I Collect Workers' Compensation And Disability Benefits?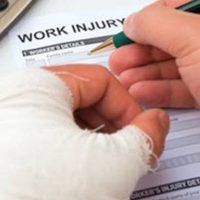 Injuries and illnesses can leave you suffering long-term disabilities. Where and why they happen are pertinent questions to answer when seeking compensation for the lost wages you suffer. If related to your job, you may be entitled to workers' compensation benefits. Find out how these interact with your rights to Social Security Disability payments and any long-term disability (LTD) insurance policies you have in place.
Protections Against Lost Wages Due To Long Term Disabilities
There are three common types of insurance that can protect you against lost wages in the event an injury, illness, or chronic medical condition results in long term disabilities that prevent you from working:
Long-term disability (LTD) insurance: These benefits may be available through employer-provided group policies or a privately purchased, supplemental LTD policy. Depending on the exact terms of your coverage, they typically reimburse you for up to 60 percent of lost wages in the event you are unable to work for a year or longer.
Social Security Disability Insurance (SSDI): You may be entitled to long-term disability benefits through the Social Security Administration (SSA), provided you have accumulated enough work credits and have a qualifying condition. Similar to LTD insurance, your condition must prevent you from working for a year or longer. Benefit amounts are based on your past earnings and may total up to $3,000, though the average benefit payment averages roughly $1,400 per month.
Workers' Compensation benefits: Florida workers' compensation benefits act as a form of insurance, providing medical care, reimbursement for lost income, and short or long-term disability benefits. Unlike LTD or SSDI benefits, which cover injuries or illnesses that happen in a variety of circumstances, workers' compensation only covers conditions that occur on the job or in the course of performing work-related duties.
Your Rights To Workers' Comp, LTD, and SSDI Benefits
If your disability is due to accidents that occur on the job site or occupational illnesses, workers' compensation benefits are something you will want to pursue. A common question concerns whether you are entitled to other types of benefits as well. The short answer is yes, with a combined limit that would reimburse you up to 80 percent of your lost income.
Workers' compensation is governed by state laws while LTD policies and SSDI are subject to federal regulations. Under the Florida Statutes, the state follows a reverse offset process. This means that your workers' compensation benefits would be reduced by any LTD benefits you receive, which in turn reduce Social Security disability payments.
You should still apply for all available programs. It can take years to get approved for SSDI and the other benefits you are entitled to could supplement your losses during this time.
Contact Us Today for Professional Help 
To discuss your rights to benefits and to ensure you get the maximum amount you are entitled to, reach out to Farrell Disability Law. Call or contact our Jacksonville long-term disability attorney online and request a consultation in our office today.