Can You Get Social Security Disability For Whiplash Injuries?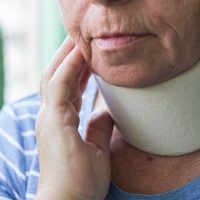 Whiplash injuries result from sudden jolts and violent whipping of the head and neck. It is one of the most common types of accidental injuries and needs to be taken seriously. Whiplash injuries can result in ongoing symptoms that could impact your ability to work or perform certain tasks on your side. Our Orlando Social Security disability lawyer explains benefits you may be entitled to that can help offset lost wages.
Common Causes and Symptoms of Whiplash Injuries
Accidents can result in serious personal injuries that impact your health and ability to work for years into the future. Whiplash injuries are among the most common. The Mayo Clinic warns that whiplash is common in the aftermath of rear-end collisions, but can happen in any type of car accident. These injuries are also common due to slip and fall injuries or getting struck by objects.
The sudden force of an accident can cause violent whipping of the neck. When a whiplash injury occurs as a result, symptoms can be subtle and may take days to appear. Among the most common include:
Headaches;
Pain and limited mobility in the neck;
Tingling in arms, hands, legs, or feet;
Dizziness and inability to maintain balance;
Excessive fatigue;
Memory problems, mood disorders, and cognitive impairments.
Anytime you are involved in an accident and whiplash or other personal injuries are suspected, it is important to get medical care immediately. Not doing so increases the risk of potential long-term disabilities.
How To Get Long-Term Disability Benefits For Whiplash Injuries
If you suffer a whiplash injury and experience symptoms that prevent you from working or performing certain tasks required on the job, you may be entitled to Social Security disability benefits. Eligibility will depend on your prior work history, having earned enough work credits to qualify for payments, and whether your injuries are likely to prevent you from working for a year or longer.
Qualifying for Social Security disability benefits is a complex process and denials are common. Steps that can help increase the odds of getting your claim approved include:
Report any accident resulting in potential whiplash injuries to police or security immediately;
Get medical attention for your injuries right away, regardless of your symptoms;
Undergo any medical testing recommended by your doctor or other health care providers;
Attend follow-up appointments as instructed;
Follow your doctor's requirements regarding work and activity restrictions;
Keep copies of all medical receipts;
Start a disability journal, documenting the impacts your injuries have on your daily life and ability to work.
All of the above are important steps in qualifying for Social Security disability. You should also obtain a firm diagnosis from your doctor that you are disabled. If they will not provide this, get a second opinion.
Contact Our Florida Social Security Long-Term Disability Attorney
When whiplash injuries prevent you from working, Farrell Disability Law helps you get the benefits you are entitled to. Call or contact our Florida Social Security disability attorney online to request a consultation in our Orlando or Jacksonville office today.
Sources:
mayoclinic.org/diseases-conditions/whiplash/symptoms-causes/syc-20378921
ssa.gov/benefits/disability/