Challenging a Denial of Disability Benefits from Your Insurance Company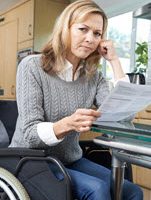 Disability insurance is one of the many types of coverage offered by insurance companies. People pay for insurance with the expectation that when life's unexpected emergencies occur, the policy will kick-in and pay for at least some of the costs incurred. Basically, insurance policies are supposed to act as a buffer and relieve some of the financial burden created when serious medical issues, for example, require expensive treatment and time away from work. This coverage is especially important if a person becomes disabled due to the onset of a medical condition or injury that prevents him/her from working. Disability insurance may be purchased privately by an individual, or, more commonly, acquired through an employer. When a person experiences a disabling condition and needs to stop working, he/she must file a claim of disability with the insurance company. The insurance company will then investigate the disability claim to determine if it believes a disability exists. Unfortunately, disability claims are often denied, and must be appealed before benefits will be authorized. A woman recently sued her insurance company for a denial of disability benefits based on the claim that her case was not given a full and fair review. Effectively challenging a denial of benefits is crucial to getting a disability claim approved, and is best handled be an experienced disability attorney. But claimants can still benefit from having a basic understanding of the methods used to combat an insurance company's refusal to approve a disability claim.
Claim Investigation Process
To better understand the grounds typically used to dispute the denial of a disability claim, it is best to start with a brief description of the process insurance companies use to review such claims. The law, particularly as it applies to employer-sponsored disability coverage, regulates the procedure insurance companies must use to evaluate a disability claim. Information related to how to file a claim and the decision process should be contained within the policy documents a person receives when the policy is first established. Under employer-sponsored plans, the insurance company must make a decision on a disability claim within a reasonable time, but no more than 45 days from day the claim is received. The insurance company can extend this period if additional time is needed to evaluate the claim or additional information is needed to make a decision. Insurance companies usually rely heavily on the opinions of medical and vocational experts to decide if a claimant qualifies as disabled. Assuming the initial claim is denied, the policyholder, depending on the plan, may either directly move to the court system, or file an administrative appeal.
Challenging a Denial of Disability Claim
If a person has a private disability insurance policy, he/she has the right to immediately file a lawsuit against the insurance company if a claim is denied. On the other hand, if the disability is through an employer-sponsored policy that is subject to ERISA rules, the claimant must exhaust administrative remedies before he/she can take steps to initiate litigation. Insurance providers have 45 days to respond to an appeal, and if the company fails to respond within this time period, the claimant is entitled to file a lawsuit on day 46. As noted above, the policy terms outline the evaluation process for claims, and if it appears the company did not follow its own procedure, this failure constitutes grounds for challenging the denial of benefits. Specifically, plans governed by ERISA must provide specific reasons for the denial, and point to particular clauses in the policy that justify such a decision. Not doing so is likely to lead a court to rule in the claimant's favor. In addition, if the company failed to properly consider medical evidence submitted, the claimant may have a case that the insurance company acted in bad faith, an argument frequently leveled against private disability insurers.
Hire a Disability Insurance Attorney
If you were denied disability benefits, do not give up. An experienced disability insurance attorney can help you mount a strong appeal, or advise you if litigation is the appropriate next step. Farrell Disability Law has years of experience, and knows how to get the benefits you need and deserve. If you live in Jacksonville, Orange Park, Middleburg or the surrounding areas, contact the office for a free consultation.
Resources:
flarecord.com/stories/511099874-woman-alleges-prudential-did-not-properly-investigate-disability-benefit-claim
dol.gov/agencies/ebsa/about-ebsa/our-activities/resource-center/publications/filing-a-claim-for-your-health-or-disability-benefits#3