Challenging The Denial Of Long-Term Disability Insurance Benefits In Court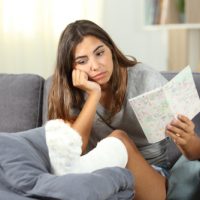 As part of their benefits packages, many employees receive Long-Term Disability (LTD) Benefits, which pays a predetermined benefit if an employee becomes unable to work as a result of a disability. In the vast majority of cases, employees do not ever need to receive these benefits. However, for the few that do, dealing with the insurance company can make a bad situation worse. Forcing disabled employees to navigate a system skewed in their favor, insurance companies may aggressively deny a claim.  Accordingly, employees will sometimes need the services of an experienced LTD attorney, and, in some cases, will have to challenge the denial of LTD benefits through the court system. Recently, a Seattle woman with multiple sclerosis successfully challenged a denial by Aetna Life Insurance Company in federal court. While in this particular matter, the court determined that Aetna's actions were so egregious that it ordered Aetna to pay all future disability claims submitted by the woman, something which does not frequently happen, it nevertheless illustrates how far an insurance company will go to avoid paying pursuant to the LTD contract. A discussion of bringing a legal action to challenge an LTD denial will follow below.
LTD Insurance, Generally
As alluded to above, LTD insurance is a form of insurance that is intended to protect an employee from the loss of income suffered when the employee is unable to work due to a disability. Typically, the disability will consist of an injury, an accident or an illness. Further, as the name would suggest, to be covered, the disability must last for an extended period of time.
Finally, although indicated above that LTD insurance policies are typically part of an employee's benefits, any person can, in fact, purchase a private LTD policy. However, if the LTD policy is part of an employee's benefits, and that employer is a private employer, it is governed by the Employee Retirement Income Security Act (ERISA).
Challenging LTD Options
Under ERISA, employees can assert a claim challenging the denial of LTD benefits, although the law specifies that such an action can only be brought in federal court. Nevertheless, employees have the right to assert a claim against his/her LTD insurance company to:
recover benefits under the terms of his/her LTD insurance contract;
enforce his/her rights under the terms of his/her LTD insurance contract; or
clarify his/her rights to future benefits under the terms of his/her LTD insurance contract.
Most often, it is the first element in which many people bring a legal challenge against their LTD insurance company.
Although it is extremely helpful to engage the services of an experienced LTD attorney at every step of the way in a claim for LTD benefits, it is essentially a requirement to engage the services in advance of any court challenge. In addition to the provisions of ERISA that govern LTD policies, as well as the various provisions of the LTD insurance policy itself, an experienced LTD attorney will also know the rules of the court, so that any legal challenge will not be dismissed on a technicality.
Importantly, much like the plaintiff in the aforementioned matter, retaining the services of an experienced LTD attorney can help assert a viable claim for the third aspect listed above – that of clarifying future benefits – so that future claims do not have to be made to the LTD insurance company, future claims that could be denied, forcing the insured individual to go through the litigation process all over again.
Get Help
An attorney experienced with LTD insurance policies has the knowledge that will help you navigate the various requirements and deadlines that must be adhered to when challenging the denial of benefits. To avoid delays and further financial strain if you have been denied benefits, or are considering submitting a claim for benefits, contact the experienced legal team at Farrell Disability Law as soon as possible. Contact our Jacksonville office today.