Completing Your Social Security Disability Residual Functional Capacity (RSC) Form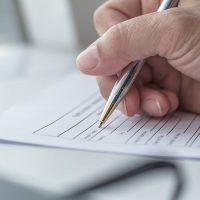 Social Security disability benefits help offset lost income if a physical or mental health condition prevents you from working. To obtain these benefits, you will need to provide documentation proving you have a qualifying condition and complete a Residual Functional Capacity (RFC) assessment. Our Jacksonville Social Security disability lawyer explains what you need to know in completing this important form.
Determining How A Long-Term Disability Impacts Your Ability To Work 
Long-term disabilities can happen for a variety of reasons, leaving you unable to work. Disability benefits help make up for lost income. According to the Social Security Administration (SSA), more than two million people apply for these benefits each year.
There are exacting standards for getting approved and over 40 percent of all claims get denied. In addition to proving you have a qualifying condition, you will also need to show how it impacts your ability to perform substantial work. This is where the Residual Functional Capacity (RFC) form comes in.
This form is designed to assess how your disability impacts common work-related tasks and must be completed and submitted with your long-term disability claim. Through a series of questions, it shows whether you are capable of the following types of work:
Sedentary work, which involves lifting no more than 10 pounds with walking or standing required only occasionally.
Light work, which requires more walking and standing, lifting up to 20 pounds, and carrying objects totaling ten pounds.
Medium work, which involves frequent walking and standing, as well as carrying objects up to 50 pounds.
Heavy work, in which you are capable of standing and walking for long periods and lifting or carrying objects weighing 50 pounds or more.
Filling Out Your RFC Form
In filling out an RFC form, you need to provide evidence documenting your answers, including the results of any medical testing and statements from your doctor. Questions you are asked include:
Are you capable of pulling, pushing, lifting, or carrying objects?
What are your weight limits for each of these above tasks?
How frequently can you perform each type of task?
If you are unable to push or pull objects, is it due to limitations in your upper or lower extremities?
Are you able to stand and walk as part of a job?
How many hours are you able to sit, such as behind a desk, provided you have normal breaks? 
Your answers along with documentation showing you have a qualifying condition play a major role in determining whether you are approved for Social Security disability benefits.
Speak With Our Florida Social Security Disability Lawyer
Social Security frequently denies disability applications, often due to failure to properly fill out the required forms. To get your benefits in the quickest amount of time possible, reach out to Farrell Disability Law. Call or contact us online and request a consultation to speak with our Florida Social Security disability lawyer in our Orlando or Jacksonville office today.
Sources:
ssa.gov/oact/STATS/dibStat.html
ssa.gov/OP_Home/rulings/di/02/SSR83-10-di-02.html
secure.ssa.gov/apps10/poms/images/SSA4/G-SSA-4734-U8-1.pdf