Degenerative Disc Disease And Long-Term Disability Benefits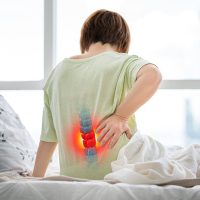 Back and neck pain are among the most common medical problems. The pain may become more severe the older you get, impacting your ability to work. Degenerative disc disease is often the underlying cause. Our Orlando long-term disability lawyer explains more about this condition and how to qualify for long-term disability benefits.
Symptoms of Degenerative Disc Disease
According to the Arthritis Foundation, degenerative disc disease is not actually a disease in the traditional sense but more of a chronic health condition. It occurs due to a wearing down of the rubbery discs that cushion the vertebrae in your back and neck, resulting in pain and stiffness. It can occur due to injuries, overuse, or simply as a result of aging. Common symptoms of degenerative disc disease include:
Pain in the back or neck area that ranges from mild to severe and potentially disabling;
Tingling, stiffness, and other types of discomfort in the shoulders, arms, and hands;
Feelings of weakness in the legs and feet;
Reduced sensation of touch in extremities;
Symptoms that come and go or worsen upon standing or sitting for long periods.
Unfortunately, discs are less likely to heal than other body parts or soft tissues due to a lack of blood flow. Once damage occurs, it is generally permanent and will likely deteriorate more in the years ahead.
Do I Quality For Long-Term Disability Benefits With Degenerative Disc Disease?
Johns Hopkins Medicine warns that as degenerative disc disease worsens, it can lead to spinal stenosis, which is a narrowing of the spinal canal. This can cause myelopathy, or compression of the spinal cord, and radiculopathy, which is pinching of nerve roots.
Degenerative disc disease can qualify you for long-term disability benefits, either through an employer-provided policy or through the Social Security Administration (SSA). Steps you need to take to protect your rights in filing a claim include:
Visit your doctor regularly and report all symptoms. Include those that may at first appear unrelated, such as tingling in your hands or feet.
Get a firm diagnosis of degenerative disc disease. X-rays and magnetic resonance imaging (MRI) are two tools commonly used in diagnosing and treating the condition.
Follow your doctor's instructions regarding treatment. This often includes medications, attending physical therapy, and wearing a back or neck brace. In some cases, surgery may be recommended.
Adhere to activity restrictions. Avoid heavy lifting, standing for long periods, sitting hunched over a desk, or anything that could aggravate your condition.
Keep a disability journal: Chronicle your condition, your treatment, and how it impacts your job and your day-to-day activities. 
Our Florida Long-Term Disability Lawyer Helps You Get The Benefits You Deserve
Long-term disabilities that occur due to degenerative disc disease can jeopardize your ability to work and provide for yourself and your family. At Farrell Disability Law, we help you get the benefits you deserve. To discuss your options in filing a claim, contact our Florida long-term disability attorney and request a consultation in our Jacksonville or Orlando office today.
Sources:
arthritis.org/diseases/degenerative-disc-disease
hopkinsmedicine.org/orthopaedic-surgery/specialty-areas/spine/conditions-we-treat/degenerative-disc-disease.html