Denied Long-Term Disability Benefits? Take These Five Steps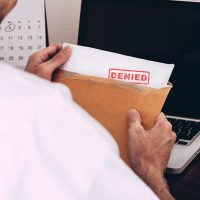 Have you been denied long-term disability (LTD) benefits despite having an injury, illness, or chronic health condition that prevents you from working? Unfortunately, this is a common problem. Our Florida LTD appeals attorney recommends taking the following five steps to protect your rights in a claim.
Your First Steps In Dealing With Denied LTD Benefits
If you are denied long-term disability benefits, it is important to be aware that you have the right to appeal the insurer's decision. To guide you through what is often a complex process and to help in ensuring the best possible outcome in your case, reach out to our experienced Florida LTD appeals attorney.
We can review your case, negotiate with the insurance company involved, represent you in administrative hearings, and assist you in filing a lawsuit if needed to get the compensation you deserve. There are some first steps you can take on your own, though, which can help in dealing with a denied LTD claim. These include:
Get a copy of your LTD policy: Your first step is to obtain a copy of all LTD policy-related documents. Under the Employee Retirement Income Security Act of 1974 (ERISA), your employer is required to provide these free of charge and at your request.
Carefully review the terms of your coverage: On the first page of your policy, you will find a summary of benefits. This details the specific type of coverage you have, when it goes into effect, and the overall terms of the policy. It will also guide you to the page listing policy exclusions, which are conditions that are not covered and other stipulations the insurer can use to deny your LTD benefits.
Carefully review the denial letter from the insurer: It is important to stay on top of any correspondence you receive from the insurance company and to respond in a timely manner to requests for additional information. If you do get a denial letter, carefully review it to determine the specific reasons that the insurer has denied your claim. Among the most common causes include failure to submit required documentation, disputes over covered conditions and whether you meet the insurer's definition of being disabled, and procedural or administrative errors.
Request copies of your medical records: Under the Health Insurance Portability and Accountability Act (HIPAA) you have the right to request copies of all your medical records. Review these to ensure they include all relevant medical information and accurately assess your condition.
Get additional testing or other treatment as needed: If there are questions, concerns, or disputes over your diagnosis or the severity of your condition, getting additional testing, treatment, and follow-up care can help in supporting your claim.
Let Us Help You Today
When dealing with denied LTD benefits, Farrell Disability Law provides the trusted legal guidance you need. To request a consultation in our office, give us a call or contact our Orlando long-term disability attorney online today.
Source:
hhs.gov/hipaa/for-individuals/guidance-materials-for-consumers/index.html