Filing For Long-Term Disability Benefits? Find Out What To Do If You Get A Denial Letter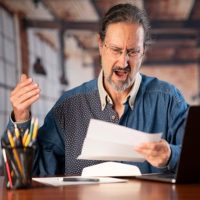 When accidental injuries or medical conditions prevent you from working, long-term disability benefits can provide a lifeline. Available either through your employer, a private policy, or the Social Security Administration, these offset lost wages and help to ensure you and your family continue to be provided for. Unfortunately, long-term disability claims denials are common. Our Orlando long-term disability lawyer explains what to do if you get a denial letter.
Common Reasons For Long-Term Disability Denials
Long-term disability insurance may be available as part of your employment benefits, through add-on policies you purchase, or through government programs paid for through income tax withholding. However, it can come as a shock that when you finally need these benefits, your claim is either denied or disputed.
Unfortunately, this is a common practice. The Social Security Administration (SSA) estimates that more than 60 percent of all first-time filed claims are denied, and the odds are equally grim whether filing through employer-provided or privately purchased policies. Among the most common reasons for denials include:
Issues concerning eligibility for long-term disability insurance coverage;
Claims you do not have a qualifying condition;
Policy exemptions, that allow insurers to deny different types of conditions;
Failure to provide required documentation;
Errors in submitting claim forms and other administrative issues.
Steps To Take if You Receive A Denial Letter
You may have been counting on long-term disability insurance to help offset lost income if you are unable to work. It can come as a shock to get a denial letter, but it is important to take a deep breath and focus on the steps you can take to protect your rights. These include:
Review the denial letter thoroughly, making note of the reasons for denial and deadlines for filing an appeal.
Review the terms of your policy. For employer-provided coverage, your rights to copies of all policy-related documents are protected under the Employment Retirement Security Act (ERISA).
Review your original application to ensure it was completed properly. This is one reason it is important to make a copy when filing your claim.
Review all evidence submitted. Gather additional medical records or other documents as needed.
In addition to these steps, reach out to our Florida long-term disability lawyer. Denials are not uncommon and many claims that are originally denied end up being approved on appeal. However, it is important to act quickly. There are firm deadlines when dealing with any type of insurance policy or government programs. Delaying action not only extends wait times but could jeopardize your rights to benefits.
Contact Our Florida Long-Term Disability Lawyer And Request A Consultation Today
Whether you are in the process of filing a long-term disability application or have already received notice of denied benefits, Farrell Disability Law provides the trusted legal guidance you need. With decades of experience handling these cases, we help clients get the benefits they are entitled to. Contact our Florida long-term disability lawyer and request a consultation in our Orlando or Jacksonville office today.
Sources:
ssa.gov/open/data/targeted-denial-review.html
dol.gov/general/topic/retirement/erisa