Five Steps To Take Now If Denied Long-Term Disability Benefits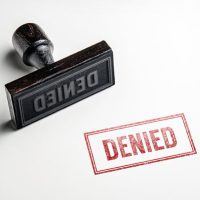 Long-term disability benefits help protect your financial security if health conditions you suffer from prevent you from working. These may be available through an employer, a privately purchased policy, or the Social Security Administration. However, the application process is often challenging and denials are commonplace. Our Jacksonville long-term disability attorney explains the steps you need to take immediately if you are denied benefits.
Denied Long-Term Disability Benefits? Take These Steps 
According to the Social Security Administration (SSA), roughly two-thirds of all long-term disability benefit claims end up being denied on the first application. The numbers concerning employer-provided and private long-term disability insurance denials are equally dismal. In many cases, it takes two or three tries before a claim is finally approved. Follow these steps to protect your rights in eventually receiving your benefits:
Thoroughly review the reason for the denial.
Long-term disability (LTD) benefits may be denied for several reasons. You may not have provided adequate evidence to support your claim, there may be a dispute over the terms of coverage, or you or the insurance company may have simply made mistakes in the application process. The first step in disputing a denied LTD claim is determining the exact reason for the denial.
Thoroughly review all policy documents.
Your employer is required to provide copies of all policy-related documents, free of charge and at your request under the Employee Retirement Income Security Act of 1974. This is actually the first step in filing a claim, but if you have not previously reviewed your policy, do so now. Check for terms of coverage, exclusions, and procedures for filing an appeal.
Provide notice of your intent to appeal.
Whether dealing with the SSA or an insurance company, you have only a limited time to file an appeal. It should provide timelines and procedures to follow on your disability denial letter. Do not delay in providing notice of your intent to dispute your disability determination.
Make copies of all correspondence and evidence submitted.
Again, this is something you should do when first filing a claim. If you have not already done so, create a file containing copies of all correspondence with insurers or the SSA. Include all of the medical records, pay receipts, and statements from yourself, your employer, and your family members that were submitted with your original claim.
Get legal help immediately.
Disability denials are commonplace. Unfortunately, while you do have the right to file an appeal, the process for doing so is complex. Not getting legal guidance from a trusted and experienced long-term disability attorney in Florida could have serious ramifications. 
Contact Our Florida Long-Term Disability Attorney Today 
At Farrell Disability Law, we protect your rights and help you get the benefits you are entitled to. For trusted guidance in filing a claim or in appealing denied benefits, give us a call or contact our Florida long-term disability attorney online today and request a consultation in our Orlando or Jacksonville office.
Source:
ssa.gov/policy/docs/statcomps/di_asr/2011/sect04.html