Four Questions To Determine Eligibility For Social Security Disability In Florida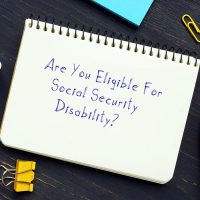 Long-term disabilities take a heavy toll on your health and impact your ability to provide for yourself and your loved ones. Our experienced Jacksonville Social Security disability lawyer provides the trusted legal guidance you need in obtaining benefits. The following four questions help determine eligibility.
Are You Eligible For Social Security Disability Benefits?
Social Security Disability Insurance (SSDI) provides monthly payments that help offset lost income if a physical or mental health condition prevents you from working. These benefits can provide a lifeline for you and your family, but filing an application and getting it approved often proves challenging. Unfortunately, many claims are denied due to failure to meet program eligibility guidelines.
Rather than taking any chances, be aware of key factors influencing your rights to SSDI. Your answers to the following questions play a major role in determining whether you are entitled to benefits:
Are you currently working and making under $1350 per month (gross income)?
In order to qualify for Social Security disability benefits, you must have a qualifying health condition that prevents you from engaging in what the SSA calls 'substantial gainful activity'. In 2022, this means that you make a total of less than $1,350 in gross income per month, or up to  $2,260 if you are considered legally blind. If you make over this amount, you are not qualified for SSDI benefits.
Have you earned enough work credits and been employed for five of the past ten years?
SSDI is funded through your employee taxes. In order to qualify, you must have accumulated at least forty work credits. These are awarded based on your income and each year that you work, with a maximum of four per year. In addition to having enough credits, you must also have worked full-time for at least five of the past ten years.
Do you suffer from a physical or mental health condition that impacts your ability to work?
The SSA maintains a Listing of Impairments, which are conditions that qualify for Social Security disability benefits. In addition to having a qualifying condition, it must be severe enough to prevent you from performing tasks on your job or other types of work for at least 12 months or more.
Have you been diagnosed as disabled by your doctor?
Not having medical documentation of your condition is one of the most common reasons for the denial of claims. It is important to visit your doctor regularly and to keep detailed records regarding your medical care, your symptoms, and the impacts they have on your life. You will also need a statement from your medical provider diagnosing you as disabled. 
Request A Consultation With Our Florida Social Security Disability Lawyer
If you answered yes to the above questions, reach out to Farrell Disability Law. We provide trusted legal guidance in filing SSDI claims and in appealing denials. To request a consultation in our Jacksonville or Orlando office, call or contact us online today.
Sources:
ssa.gov/benefits/disability/
ssa.gov/benefits/retirement/planner/credits.html
ssa.gov/disability/professionals/bluebook/AdultListings.htm