Frequently Asked Questions About Social Security Disability Benefits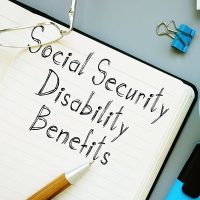 Social Security disability insurance (SSDI) provides benefits for people who are unable to work. These can provide a lifeline for disabled workers and their families, but the process for filing a claim is confusing and denials are common. Our Jacksonville Social Security disability lawyer has years of experience helping clients with these claims. The following are answers to frequently asked questions:
What Is Social Security Disability Insurance?
Available through the Social Security Administration (SSA), Social Security Disability Insurance protects people who suffer long-term disabilities that prevent them from working for a year or longer. Based on your work history and income, it can reimburse you for up to two-thirds of your lost wages.
How Can I Tell If I Am Eligible For SSDI?
In order to qualify for SSDI benefits, you must have earned enough work credits. These are based on your wages and you can earn up to four work credits per year. You need 40 credits to apply for Social Security retirement benefits. You only need 20 or less to be eligible for SSDI.
Work credits are part of the picture. You must also have what the SSA considers a qualifying condition.
What Is A Qualifying Condition?
A qualifying condition is one that results in physical, emotional, or cognitive impairments that prevent you from working or engaging in Substantial Gainful Activity for a year or longer. You can access information about qualifying conditions via the SSA's Listing of Impairments.
What Is Substantial Gainful Activity?
You can still work and collect Social Security disability benefits. However, substantial gainful activity (SGA) involves either physical or mental activities for which you are paid an amount that exceeds SSA limits in your case. In this event, you are considered not disabled and therefore no longer eligible for SSDI benefits.
When Can I Apply For SSDI
As it can take long months to get your SSDI claim approved, you should apply the first day you become completely disabled. You can file an application either at a local office or online.
How Do I Find Out The Status Of My Claim?
You can check the status of your SSDI claim either online or by calling the SSA's toll-free number. Be aware that delays are common and it is important to respond promptly to any requests for additional information.
What Should I Do If My SSDI Claim Is Denied? 
Up to two-thirds of all SSDI claims are denied on the first application. You do have the right to appeal, but only have a limited amount of time to do so.
Speak With Our Florida Social Security Disability Lawyer
If you are unable to work, Social Security disability benefits can provide a lifeline for you and your family. To help ensure you get the benefits you are entitled to in the quickest amount of time possible, reach out to Farrell Disability Law.
To speak with our Florida Social Security disability lawyer, call or contact us online and request a consultation in our Jacksonville or Orlando office today.
Source:
ssa.gov/benefits/disability/#anchor2
ssa.gov/disability/professionals/bluebook/AdultListings.htm
ssa.gov/myaccount/application-status.html