How Heat-Related Illnesses Increase The Risks Of Long Term Disabilities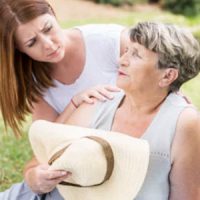 The summer months in Florida are brutal in terms of the heat. If you work anywhere outside or in areas with poor air-conditioning, heat-related illnesses are a major concern. These can have lasting impacts on your health and increase your risks of long-term disabilities. Find out more about the potential dangers and long-term disability benefits you may be entitled to.
Heat-Related Illnesses
Average temperatures in Jacksonville, Orlando, and other cities throughout Florida hover near 90 degrees over the summer months. The sun and high humidity can easily push the heat index to over 100. If you have to work outside at this time of year or anywhere with poor ventilation, it is important to develop strategies to help prevent heat-related illnesses.
The Centers for Disease Control and Prevention (CDC) warns that heat exhaustion and heat stroke are major concerns. They can end up permanently impacting your ability to work in the heat and may do damage to kidneys, the heart, and other internal organs. Symptoms of heat-related illnesses include:
Rapid heartbeat;
Confusion;
Profuse sweating or, conversely, a complete lack of sweating;
High body temperature;
Nausea and vomiting;
Feeling lightheaded and dizzy;
Loss of consciousness;
Seizures.
If you spend extended amounts of time in the heat, be sure and have plenty of water available and take frequent breaks. Wear light, white clothing, use cold compresses, and get medical help at the first sign of the above symptoms.
Long Term Disability Benefits Due To Heat-Related Illnesses
Heat-related illnesses are a leading cause of death and disability during the summer months. Follow all your doctor's instructions regarding treatment as well as work and activity restrictions and check with your employer to see if you are entitled to long-term disability payments.
Under the Employee Retirement Income Security Act of 1974 (ERISA), your employer is required to provide copies of all policy-related documents, free of charge and at your request. Review these for the following information:
The date your policy went into effect;
Any waiting periods;
The extent of coverage and the amount of benefits you are entitled to;
Any exclusions, which are injuries and illnesses that are not covered.
File a claim through the insurer involved and make sure you provide adequate evidence to prevent delays and denials. This includes medical records, proof of coverage, proof of wages, and impact statements from you, your doctor, employer, and others involved, such as family members. Be aware that you also may be entitled to workers' compensation benefits. Depending on the terms of your policy and the total amount each provides, you may be able to collect both.
Let Us Help You Today
Heat-related illnesses are a common cause of long-term disabilities in Florida. At Farrell Disability Law, we are dedicated to helping you get the benefits you are entitled to. For trusted legal guidance in filing your claim or in the event of denials or delays, reach out and contact our Jacksonville long-term disability attorney. Request a consultation in our office today.