Key Terms In Long-Term Disability Policies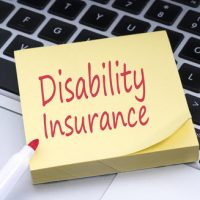 It is easy to assume one does not need disability insurance. Often people think this type of coverage is meant for the older worker or someone with preexisting physical or mental conditions that place them at risk of becoming impaired. However, a disability can arise from a number of sources – accident, illness or injury being the most common, and can strike at any age. But, unless a person has personal experience with a major health issue or injury, having this possibility on one's radar is unusual. Unless a person is in the minority and can afford to go potentially years without steady income, the safeguards extended in long-term disability plans should be given the same priority as life insurance, a benefit that is much more commonly purchased. However, to really know the value of a disability policy, one must understand the key components of the coverage and benefits contained within the policy, which controls when and how benefits are paid. A discussion of a few of the most prevalent terms used in disability policies will follow below.
And/Or Qualifying Provisions
A disability insurance policy will only pay out a claim if the person meets the policy's definition of disability. This qualification criterion is equally true, though the precise requirements may differ, for Social Security Disability Insurance claims. Typically, someone filing a claim must meet certain criteria, sometimes several different requirements, to be considered disabled. Within the language governing when benefits will be paid, "and"/"or" clauses are frequently used to determine if a claim will be viewed as valid. "And" clauses are the most restrictive, and require the claimant to meet all the requirements to receive benefits, meaning fewer policyholders are paid. "Or" clauses are more flexible, and allow the claimant to receive benefits if just one of the listed requirements is met. Certainly, "or" clauses are preferable because it makes qualification easier, but generally knowing how onerous qualifying for benefits is will dictate how to approach filing the disability claim generally.
Pre-existing Conditions
Many disability policies exclude individuals from claiming benefits if they have certain conditions that preexisted filing a claim. These conditions, such as pregnancy and cancer, are considered by the insurance company to be too risky to insure, and they will deny benefits accordingly if a claim is made. These preexisting condition limitations usually only last for a few months, and sometimes up to one year, following enrollment, and new hires may or may not be subject to these provisions.
Returning to Work
Being able to return to work is the ultimate goal, but when and to what degree a return is allowed while still collecting disability benefits will vary. Some policies allow covered individuals to return part-time, while others require full rehabilitation, including participation in therapy to correct the problem or learn compensating techniques, before a return to work will be cleared. Non-compliance with the policy requirements on this issue could cause the insurance company to cut-off benefits early, so attention to these conditions is important.
Determining One's Earnings
Finally, long-term disability policies pay out a certain percentage of an insured's earnings, but not all jobs are paid using one method. A description of how benefits are calculated is contained in the earnings clause, which can be complex if a person's earnings vary, as they do for salesmen. Other than knowing how one qualifies for benefits, knowing how much will be paid if a disability occurs is key information all policyholders should understand.
Talk to a Disability Insurance Attorney
Dealing with a disability is never easy, but working with a knowledgeable disability insurance attorney can make the procedural part of the burden a little easier to bear. Farrell Disability Law understands the challenges disabled individuals face when applying for private and federal benefits, and can help you get the money you need and deserve, even if your claim was initially denied. Contact the Jacksonville office today to learn how this law firm can help you.
Resources:
npr.org/sections/health-shots/2017/10/11/556946744/why-a-long-term-disability-policy-is-more-important-than-pet-insurance
cbsnews.com/news/when-a-sudden-disability-ends-your-income/