Long Term Disability Benefits And Other Types Of Disability Insurance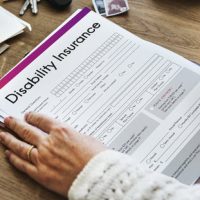 Insurance policies you have in place, including those provided by your employer and private policies you purchase, help to protect you when the unexpected happens. These often work together and combined, can save you hundreds of thousands of dollars. Find out how your long-term disability benefits may work with other common types of disability insurance to protect you.
Long Term Disability and Other Insurance Benefits
According to the Bureau of Labor Statistics (BLS), more than a third of all employees in the United States have some type of long-term disability (LTD) insurance coverage available through their employer. These are generally included as part of your overall compensation package and help to protect you in the event that accidental injuries, illnesses, or chronic health conditions prevent you from working for a year or more.
Long-term disability benefits combined with health insurance policies can help ensure you get the medical care you need for your condition while avoiding out-of-pocket costs. Policygenius advises that there are other common types of insurance that go into effect specifically when disabilities happen, which can help in stretching the monthly amount of LTD benefits you receive. These policies may be provided through your employer or purchased through private companies. They include:
Short-term disability insurance: These benefits, typically available through your job, can help replace lost income in the early days of your condition, prior to when disabilities become long term and prevent you from working completely.
Supplement disability insurance: Generally available as an option through private or group policies, these provide additional amounts of LTD insurance, helping to increase monthly benefits.
Workers' Compensation benefits: If your disabilities result from job-related injuries or occupational illnesses, this program can provide health care, reimbursement for lost wages, and additional disability benefits.
Mortgage disability insurance: This is a rider that may be included as part of your mortgage or other personal loans. It protects you in the event you are unable to keep up with monthly payments due to long-term disabilities.
Social Security disability insurance: Depending on your prior work history and whether you have a qualifying medical condition, you may also be entitled to monthly benefits through the Social Security Administration (SSA).
To make sure you are getting the maximum amount of benefits you deserve, make an inventory of all the different types of disability insurance benefits you may be entitled to and carefully review all policy details. Some of these policies have exclusions regarding certain types of conditions while others only pay partial benefits when combined with other types of insurance.
Let Us Help You Today
Other disability insurance policies you have in place can help to supplement LTD benefits available through your employer, saving you money and stretching otherwise limited income. For more information and for help in protecting your rights in getting the maximum amount you are entitled to, reach out to Farrell Disability Law and call or contact our Jacksonville long-term disability attorney online to request a consultation in our office today.