Long-Term Disability Benefits: Transitioning From 'Own Occupation' to 'Any Occupation' Benefits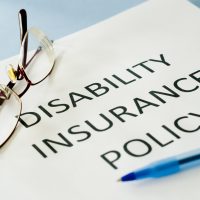 Long-term disability benefits provide in the event you are unable to work. However, just because this type of policy is in place does not mean you will automatically be approved. Even if the insurance company does grant your claim, there are still times when your benefits will be subject to review. One of the most common issues that arises involves the difference between disabilities that prevent you from working in your 'own occupation' as opposed to those that impact your ability to work in 'any occupation'.
The Difference Between Your Own and Any Occupation
As with any type of insurance coverage, your rights to long-term disability (LTD) benefits are dictated by the specific terms listed in your policy. Among the most common terms concerns the difference between your ability to work in your own or and any occupation. Policy Genius points to language that is frequently used in describing each of these situations:
Your own occupation: "If you meet the definition of totally disabled and you become employed in a new occupation, your total disability benefit will not be affected by any income from the new occupation, regardless of the amount.'
Any occupation: To be eligible, you must be "unable due to illness or injury to perform all of the substantial and material duties of any occupation for which you are fitted by education, training, and experience.'
Transitioning From Your Own To Any Occupation, In Terms Of Disability
Being covered for LTD benefits if you are unable to work in your own occupation allows you to make money from other sources. However, even if this is included as a provision in your policy, it could change after a period of time.
LTD insurance policies often divide coverage into two disability periods. This first generally lasts a couple of years and likely applies to your own occupation. After this, it may transition to the "any occupation" qualification. Once the policy transitions, you could be denied benefits.
The first step in protecting your rights is to thoroughly review the terms of your policy. The Employee Retirement Income Security Act (ERISA) requires your employer to provide these documents at your request and free of charge. Once you obtained these documents, follow these steps:
Look for the type of language outlined above, that addresses the issue of whether coverage applies to disabilities that impact your own or any occupation.
Carefully review the terms to determine when and if any transition in benefits will occur.
Review your disability with your medical providers, discussing your prognosis for the future and how health issues you suffer could impact your ability to work now and in the years to come.
Let Us Help You Today
At Farrell Disability Law, we can thoroughly review your LTD insurance policy, explaining your rights to coverage while taking the actions needed to protect your benefits. To request a consultation in our office, call or contact our Jacksonville long-term disability attorney online today.
https://www.mydisabilitylaw.com/common-causes-of-long-term-disability-among-young-adults/