Long-Term Disability Do's And Don'ts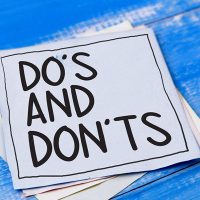 When health conditions arise suddenly and threaten to prevent you from working for a year or longer, long-term disability benefits can help offset your losses. Unfortunately, determining what benefits you are entitled to and going through the application process often presents challenges. Our Orlando long-term disability lawyer offers some do's and don'ts that can help.
What To Do When Facing The Prospect of Long-Term Disabilities
Long-term disabilities can happen to anyone, at any age, regardless of their current health. Long-term disability benefits are an option and can help ensure you and your family continue to be provided for. Follow these tips to protect your rights regarding these benefits:
Do get a diagnosis: If you suffer a condition that impacts your ability to work, get a firm diagnosis from your doctor.
Do follow all medical instructions: Follow your doctor's advice regarding testing, treatment, and follow-up care, as well as any work or activity restrictions.
Do keep copies of all medical records: Make sure you have copies of the result of medical testing and other records pertaining to your care.
Do keep a file containing receipts and statements: Bills, receipts, and statements from your insurer provide evidence to support a long-term disability claim.
Do keep a disability journal: Keep a journal detailing your condition and the impact it has on your life and ability to work.
Do speak with your employer: Many jobs offer long-term disability benefits that can help supplement lost income. Ask your employer about these policies. Under the Employee Retirement Income Security Act of 1974 (ERISA), they are required to provide you with a copy of all policy-related documents, free of charge and at your request. 
What Not To Do When Applying For Long-Term Disability Benefits
You may be entitled to reimbursement of up to two-thirds of your lost wages through long-term disability benefits. While the process of obtaining these payments can prove challenging, it is important not to give up. It is also important to avoid certain actions, which could adversely impact your claim or the overall amount you are entitled to:
Do not neglect to thoroughly read all policy-related documents: Pay close attention to policy provisions, payout amounts, and any exclusions that apply.
Do not overlook Social Security disability: Depending on the length of time you worked, you may also be entitled to Social Security disability benefits as well. It is possible to be eligible for both.
Do not fail to communicate promptly with representatives: Whether you are dealing with your employer, insurance policy representatives, or Social Security Administration personnel, respond promptly to all communications.
Do not take 'no' for an answer. The majority of disability claims are denied on the first application, only to be approved after an appeal is filed.
Request A Consultation With Our Florida Long-Term Disability Attorney
At Farrell Disability Law, we help you get the benefits you are entitled to. For professional advice and trusted legal guidance in filing a claim, call or contact our Florida long-term disability attorney online and request a consultation in our Orlando or Jacksonville office today.
Sources:
dol.gov/general/topic/retirement/erisa
ssa.gov/benefits/disability/