Neck Pain And Long-Term Disabilities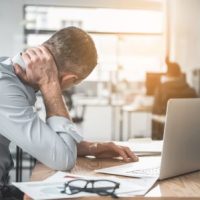 For many people, performing even basic tasks required by their jobs is a literal pain in the neck. Chronic neck pain is a debilitating condition that can occur due to a variety of causes. It can impact your ability to work and your overall quality of life. Our Orlando long-term disability lawyer explains common causes and when you may be eligible for long-term disability benefits.
'Tech Neck' And Other Common Causes Of Neck Pain
Neck pain is one of the most common types of ailments. It can end up being a major problem for people who spend large amounts of time either working on a computer or simply looking at their phones and other devices.
Tech neck describes a painful condition that can cause headaches, limited mobility, and tingling or numbness in the arms, hands, and other body parts. It occurs due to spending long hours looking down at a screen, resulting in strained muscles and tendons, pinched nerves, and damaged vertebrae, leading to unhealthy curvatures of the spine.
While tech neck is a serious risk for workers in a variety of industries, there are other common causes of neck pain that can result in long-term disabilities. According to the Mayo Clinic, these include:
Accidental injuries, such as suffering whiplash in a car accident;
Worn joints, due to age and overuse;
Degenerative diseases, such as arthritis;
Long-term illnesses, such as cancer.
Long-Term Disability Benefits For Neck Pain
Any condition that impacts your ability to work or perform certain tasks on your job and is expected to last for a year or longer could entitle you to long-term disability. Benefits may be available through your employer or the Social Security Administration (SSA). Steps you can take to protect your rights regarding these benefits include:
Get a firm diagnosis of your condition from a doctor;
Follow all recommendations regarding testing and treatment;
Keep details records regarding doctor visits and the symptoms you suffer from;
Keep a journal describing how neck pain impacts your everyday life and ability to work;
Document any days off or extended leave you have had to take due to neck pain;
Review employer-provided long-term disability benefits you may have in place;
Review SSA guidelines to determine whether you have earned enough of the required work credits;
Contact our Florida long-term disability lawyer for help in filing a claim.
Request A Consultation With Our Florida Long-Term Disability Attorney Today
Long-term disability benefits can provide you with a steady income in the event you suffer from chronic neck pain that impacts your ability to work for a year or longer. These benefits may be available through your employer or the Social Security Administration, but filing a claim and getting it approved is often a challenge.
To protect your rights to benefits and prevent denials or delays that could jeopardize your financial security, reach out to Farrell Disability Law. We can review your case and assist you throughout the application process. Call or contact our Florida long-term disability lawyer online today to request a consultation in our Orlando or Jacksonville office.
Sources:
mayoclinic.org/diseases-conditions/neck-pain/symptoms-causes/syc-20375581
ssa.gov/benefits/disability/