New Disability Claim Procedures Now In Effect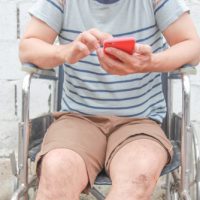 Insurance, in recent times, has become almost a necessity for life. From automobile to home, insurance allows many people a peace of mind, free from the worry of having to replace something should tragedy strike. Included with this is disability insurance, which serves to protect an employee from loss of income should he/she be unable to work for a period of time. Typically, one purchases a disability insurance policy, pays the premiums, and, if a covered event occurs, the insurance company will pay out the agreed-upon amount. However, this doesn't always work this way, and, in some cases, an insured may need the services of a disability insurance attorney to ensure payment.
In addition to private disability insurance policies, many employees have disability insurance as part of their overall benefits package with their employer. Unfortunately, sometimes there is not a complete transparency between employer-provided disability insurance policies and the insured individuals. As such, the Department of Labor enacted new procedures, which went into effect on April 1, to overcome these faults. A discussion of these new procedures, and the most important change for claimants, will follow below.
The New Procedures
As alluded to above, the new procedures are intended to promote fairness, accuracy, and transparency in the claims review process, as well as to protect both participants and beneficiaries. Specifically, the procedures are designed to streamline the disclosure requirements for all disability claims filed on or after April 1, 2018. Thus, the additional protections given to claimants for employer-provided disability insurance policies include the following:
Cultural Differences. All required notices and disclosures must be written in a culturally and linguistically appropriate manner. If at least 10% of the population where a claimant resides is predominately non-English speakers, the notices and disclosures must include a statement, in that language, how the claimant may access foreign language services. Additionally, written notices, and spoken customer assistance, in that language must be made available upon request.
Notice Requirements. All notices must contain a thorough discussion of why the claim has been denied, and what criteria were used in the denial.
Full Disclosure and Right of Access. All claimants are to be notified of all information that will be relied upon by the insurance company administrator in examining the disability claim. Further, claimants must be given timely notice of their right to access their entire claim files.
Right to Respond. Claimants must be given the right to present evidence in support of their claim during the review process. In matters on appeal, claimants must be given an opportunity to respond to new or additional evidence not previously considered during the claims stage – and this opportunity must be given before a decision is made taking into account this new evidence.
Right to Judicial Review. If a plan fails to comply with these new procedures, a claimant has the right to seek court review of a claim denial prior to exhausting all administrative remedies under the plan.
Rescission of Coverage. If coverage is rescinded, in some cases, the rescission may initiate the appeals process.
Conflicts of Interest. All claims and appeals must be examined in such a manner as to ensure the independence and impartiality of the persons involved.
Implications for Disability Applicants
The administrative process to file, let alone appeal the denial of benefits is daunting at best, and can seem never-ending as the insurance company slowly works through all layers of evaluation and decision-making. Prior to the implementation of these rules, claimants had to exhaust all administrative appeals before a court's review was possible. That barrier is no longer present, giving claimants the ability to obtain final decisions more quickly, and the payment of rightful benefits sooner.
Get Help
Accordingly, if you are have filed (or will shortly file) a claim for disability benefits from your employer-sponsored disability plan, contact the experienced disability legal team at Farrell Disability Law as soon as possible. In light of these new procedures, it is advantageous to have someone on your side who can maneuver through the process that best presents your evidence and gives you the best chance for success. Contact our Jacksonville office today.
Resources:
golocalworcester.com/business/smart-benefits-new-disability-claims-procedure-in-effect-today
federalregister.gov/documents/2016/12/19/2016-30070/claims-procedure-for-plans-providing-disability-benefits