Qualifying for Social Security Disability due to Mental Illness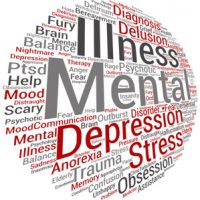 A common and unfair perception about people receiving Social Security Disability Insurance (SSDI) benefits is that they use this government-provided benefit to avoid working. However, the vast majority of people applying for and receiving SSDI benefits have repeatedly tried and failed to maintain regular employment following the onset of a disability. Very few people want to assume the label of disabled due to the stigma that designation generally brings, but for those suffering from a disabling mental illness, the disdain society feels for these individuals is much stronger. Many dismiss the existence of mental illness, or believe the person has control over what is going on in his/her mind, but these conditions are debilitating, overwhelming and beyond the control of the sufferer. Convincing others of the existence of a condition that cannot be seen or really understood is difficult, and this difficulty extends to sufficiently demonstrating the level of disability needed to qualify for SSDI benefits. One in five adults experiences a mental health issue each year, which means millions of Americans suffer from these conditions every day. SSDI gives these individuals the opportunity to receive reliable income so they can focus on stabilizing their condition. An overview of what the Social Security Administration (SSA) examiner is looking for in a SSDI claim based on mental illness will follow below.
Medical Evidence
Medical evidence forms the heart of any SSDI claim, and applications based on mental illness are no different. However, impairments due to these conditions are particularly hard for examiners to evaluate because they often operate cyclically, leaving the sufferer with periods of stability followed by times of acute dysfunction. With mental health claims, in particular, the medical records should include an assessment of an individual's ability to engage in normal daily activities and/or a reduced ability to keep up with them to show he/she is incapable of working. Evaluations of issues, such as the ability to concentrate, learn and retain information, and capacity to work with others will be crucial information to the success of an SSDI claim. However, the most important type of medical evidence for mental health disability claims relates to episodes of decompensation.
Decompensation
Decompensation is the decline of an individual's ability to function at a normal level, which is indicative of an inability to work. Basically, if someone has repeated and extended episodes of mental health issues that impair his/her capacity to adequately function in a job, an employer is likely to terminate, and finding a new job may not be feasible. A lack of decompensation evidence does not doom an SSDI claim. All medical evidence is considered during the examiner's assessment, and most individuals with mental illnesses have additional conditions that contribute to their overall ability to work, such as spinal deterioration and depression.
Listed Conditions
Some mental illnesses are known to involve repeated and increasingly severe periods of acute psychic dysfunction, and are consequently listed as officially recognized impairments. The SSA considers these conditions to be inherently debilitating, rendering a sufferer unable to work. An examiner looks for medical evidence of the symptoms associated with a particular mental illness to determine if a claimant meets the necessary criteria. Some of the conditions accepted as disabling by the SSA include:
Schizophrenia;
Bipolar disorder;
Autism;
Anxiety; and
PTSD.
Contact a Disability Insurance Attorney
If you are suffering from a disabling condition, the income provided by SSDI benefits can mean the difference between having necessary medication and a place to live or being out on the street. Given how important SSDI benefits are, a disability insurance attorney should be consulted about filing a claim to give you the best possibility of success. Farrell Disability Law helps clients throughout Florida or South Georgia get the benefits they need and deserve. Contact the office today for a free consultation.
Resources:
ssa.gov/disability/professionals/bluebook/12.00-MentalDisorders-Adult.htm#12_13
nami.org/Learn-More/Mental-Health-Conditions