Qualifying for SSDI as a Young Adult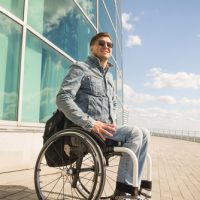 The majority of people who apply for Social Security Disability Insurance (SSDI) benefits are older, with the average recipient being 53 years old. By this age, they have worked a significant number of years, and typically have no issues fulfilling the work credit requirement that is a prerequisite to filing for benefits. However, no one knows when the onset of a disability will occur, and sometimes, this unfortunate situation can happen to someone who is quite young, perhaps in an accident at his/her first job. These individuals have a scant number of working years from which to draw, and usually have earned very little, which is what is used to set the monthly benefit. Based on the rules of qualification for SSDI, these individuals would not have the ability to even apply for benefits, but special rules apply to claims submitted by young adults aged 22 or younger that are designed to account for their short work and earnings history so they have an opportunity to receive disability benefits. Further, even those who have never worked due to a severe disability may qualify for SSDI benefits using a parent's Social Security record. A general discussion of the work history a person applying for SSDI benefits needs to have, as well as the special rules for disabled individuals under the age of 22, will follow below.
Required Work History
SSDI is a program administered by the Social Security Administration (SSA) that offers benefits to disabled individuals who have paid a sufficient amount into the SSA system. This is calculated in the form of work credits, which are based on a person's yearly earnings or self-employment income, with four work credits being the maximum a person can earn annually. The number of work credits a person needs for SSDI benefits depends upon his/her age when the disability first appeared. Thus, younger workers need fewer credits to qualify. Further, the work credits need to be earned recently enough in time for SSDI benefits to be available. Importantly, the work credit requirement must first be satisfied before an evaluation of the existence of a qualified disability is even begun. The maximum amount of credits a person would need is 40, with the last 20 earned in the ten years preceding the disability. Note that the majority of workers will earn more than the 40 work credits needed for SSDI, but the extra work credits do not increase a person's benefit amount. Rather, the average amount an individual earned during all working years will be used to calculate the benefit amount. To put work credits in concrete numbers, a person 24 or younger needs just three years of work history and 6 work credits. By contrast, someone who becomes disabled at the age of 50 needs 28 work credits earned within the 10 year period before the disability onset.
Rules for Disabled Aged 22 or Younger
For adults disabled before the age of 22, the SSA has special rules that permit them to qualify for child benefits using their parent's Social Security earnings record if the parent is deceased or is receiving retirement or disability benefits. To qualify, the individual must be unmarried, over the age of 18, and have experienced the onset of a disability before age 22. The individual need not have worked to qualify for disability benefits since the parent's earning would be used, but he/she may still qualify for benefits under his/her own accord, though the benefits available through the parent are almost always higher. Note that if the parent never worked, SSDI benefits for the disabled adult would not be available, and he/she would have to depend on his/her own earnings record.
Consult a Disability Insurance Attorney
SSDI benefits are often difficult to obtain, and disability claims should be reviewed by an experienced disability insurance attorney before submitting an application. Disability insurance attorney know what the examiners are expecting to see, and can guide you on how to build the strongest possible claim. Farrell Disability Law has the knowledge you need to help you get the benefits you deserve. Contact the Jacksonville office today for a free consultation.
Resource:
ssa.gov/planners/disability/dqualify2.html