Respiratory Diseases and Disability Benefits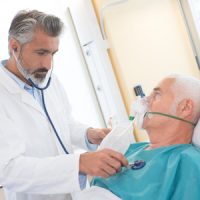 Flu season presents significant challenges each year for people with respiratory problems. Those with chronic conditions such as asthma and chronic obstructive pulmonary disease (COPD) face an increased risk of pneumonia and other types of lung infections. In 2020, the coronavirus makes sufferers even more vulnerable. Even if you are not infected, your respiratory issues could leave you suffering long-term disabilities. Fortunately, you may be entitled to disability benefits to cover any lost wages you experience as a result.
Chronic Respiratory Issues A Common Health Problem 
If you suffer from respiratory issues that impact your breathing and lung function, it is important to realize you are not alone. According to the U.S. Department of Health, nearly 40 million people are diagnosed with a chronic respiratory disease while more than 12 million others are undiagnosed. Among the most common are asthma and chronic obstructive pulmonary disease (COPD). Symptoms of these conditions include:
Wheezing and shortness of breath;
Chronic coughing;
Tightness in the chest;
General weakness and impaired lung function.
These symptoms can impact your daily life and your ability to work or perform certain tasks on the job. In addition to periodic flare-ups due to environmental factors such as allergy season, people with respiratory diseases are at risk for potentially life-threatening complications due to influenza and other types of illnesses.
Disability Benefits For People With Respiratory Disorders
If you suffer respiratory issues that prevent you from working, you may be eligible for Social Security disability benefits. Chronic respiratory diseases under the Social Security Administration's (SSA) listing of impairments include:
Asthma;
COPD;
Chronic bronchitis;
Cystic fibrosis;
Emphysema;
Pneumoconiosis;
Respiratory failure.
Even if the symptoms you experience as a result of asthma, COPD, or other respiratory diseases have previously been mild, a bad flu season can cause a dramatic worsening in your condition. In this situation, you may be eligible for social security benefits. You may also be entitled to long-term disability payments through your employer.
Protecting Your Rights To Disability Benefits
For people with respiratory diseases, there are steps you can take to protect your rights to disability benefits. These include:
Get a firm diagnosis from your doctor;
Attend regular follow up visits and follow all treatment recommendations;
Keep a journal detailing how your condition impacts your daily life and your ability to perform tasks on your job;
Review your eligibility for social security disability;
Review disability coverage available through your employer.
Under the Employee Retirement Income Security Act of 1974 (ERISA), your employer must provide you with free copies of all policy-related documents. Review these to determine whether respiratory conditions are listed and any additional terms or requirements you must meet to ensure eligibility.
Let Us Help You Today
When you struggle with sudden illnesses or chronic health conditions that make it difficult to perform tasks on your job, Farrell Disability Law offers the legal help you need to get the benefits you deserve. To request a consultation in our office, call or contact our Jacksonville long-term disability attorney online today.
https://www.mydisabilitylaw.com/complications-from-the-flu-could-cause-long-term-disabilities/