The Basics of Disability Insurance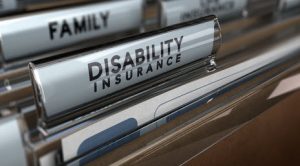 No matter the type of work someone does, a certain amount of training and learning is required to become proficient. Instruction and education is particularly required in today's world as technology increasingly grows to be a staple in everyone's life. Consequently, people invest a lot of time and energy in learning an occupation that will financially support them and their family. Given this commitment, when a physical or mental condition arises that interrupts or completely cuts off a person's ability to work, the financial and emotional effects are devastating. Some employers offer disability insurance that temporarily or permanently pays a percentage of a person's salary while he/she is unable to work. Conversely, individuals can purchase their own private disability insurance policies, or apply for federal disability insurance offered through the Social Security Administration. Regardless of the source of disability coverage, this insurance acts as income replacement, and is often the sole resource a person has to pay his/her bills. Anyone can experience a debilitating condition that takes them out of the workforce, and planning for this possibility, instead of just reacting, is the best way to ward off financial catastrophe.
Employer-provided Disability Insurance
These are group plans that some employers provide to their employees automatically or offer as an option as part of an overall insurance benefits package. In addition, employers that automatically provide coverage sometimes allow employees to purchase additional coverage so that a higher percentage of their salary is paid in the event they cannot work. These policies are often regulated by Employee Retirement Income Security Act of 1974 (ERISA), which means that a person professing a disability must file a claim with the plan administrator that includes evidence a disability exists. The insured can appeal a denial of the claim, and present a clear and complete explanation of all losses suffered by the insured is crucial to success. A disability insurance attorney is specially equipped to assist in this process.
Individual Disability Insurance
Individual or private disability insurance is directly purchased through an insurance agent. One advantage to purchasing one's own disability policy is any money paid out by the policy is usually not subject to taxation because funds used to pay for it were already taxed. The policy can be effective up to age 65, after 65, or for life. Similar to employer plans, policyholders wishing to make a disability claim must offer medical evidence supporting their claim and seek approval from the insurance company. Denied claims may be appealed or sued upon by the insured.
Short/Long-Term Disability Policies
Insurance companies typically offer two types of disability insurance: short-term and long-term. As the name suggests, short-term policies are in effect for very limited period of time, and often include a waiting period of 0 to 14 days before the policy is active. Further, the maximum amount of time these policies will pay benefits to a disabled insured is typically six months.
Long-term disability policies are usually structured to last for the normal working life of a person, typically until age 65, and involve longer waiting periods, ordinarily several weeks to two years, before the policy will pay out. These are types of policies most commonly offered by employers, though they can be obtained individually.
Contact a Disability Insurance Attorney
Dealing with a disabling condition is no easy task, and disability benefits are essential to financial stability. If you are fighting the government or an insurance company for disability benefits, do not take on this fight alone. Work with a disability insurance attorney to give yourself the best possible chance of getting the money you need. Farrell Disability Law represents clients throughout Florida and southern Georgia, and is available to take your case. Contact the office for a free consultation.
Resource:
leg.state.fl.us/statutes/index.cfm?App_mode=Display_Statute&Search_String=&URL=0600-0699/0627/Sections/0627.4233.html