The Complicated Process of Qualifying for Social Security Disability Insurance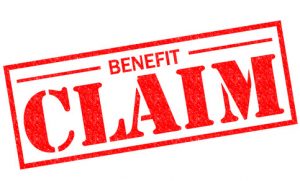 Working or having a job is often more than just a source of steady income. Being employed brings a sense of purpose and structure to a person's day and life, and a big hole is left behind for many that find themselves un- or underemployed. While unemployment numbers have decreased from their height about 8 years ago, substantial layoffs are still commonly reported in the news. Involuntary employment will always be difficult to accept, but the emotional and financial instability of this situation is compounded when the unemployment is due to a disability that impacts a person's ability to work. Everyone is at risk of developing a serious condition that requires curtailing or stopping work. Disability insurance exists to supplement the financial loss of these circumstances, and the most well-known form in this country is the Social Security Disability Insurance (SSDI) program offered by the federal government. SSDI turned 60 this year, and offers government benefits to adults with physical or mental impairments that prevent them from maintaining self-supporting employment. Without this assistance, many disabled individuals would not have enough money to provide for necessities, such as food and housing. Consequently, understanding the process to qualify for this benefit is crucial to anyone facing a debilitating health condition.
Pre-Application Requirements
Before a person is eligible to apply for SSDI, a few prerequisites must first occur. First, the applicant must be unable to work because of a medical condition that is expected to last at least 12 months or cause death. Second, the applicant must have enough work history to earn a sufficient number of work credits, which is calculated by the age at which the applicant became disabled. Thus, the older a person is when disability occurs, the more credits are needed to qualify for SSDI. Credits are earned based on a person's annual salary or self-employment income, and typically, a person earns four credits a year. Applicants generally need 40 credits, with 20 earned in the past 10 years to qualify. Younger workers may qualify with fewer credits.
Applying
The Social Security Administration now allows applicants to apply for disability online. The application is very extensive, and requires a lot of detailed information to complete. It is not uncommon for applicants to receive assistance with completing the forms, which can easily take hours to complete, depending on the complexity of a person's work and medical histories. Completing an application requires gathering a lot of information, so applicants typically have some prep work to do prior to initiating the application process. Examples of the type of information requested on an application include:
work history for the previous 15 years starting from the time the medical condition developed that affects the applicant's ability to work. This work history also includes a description of the duties at each job so the evaluators can assess the physical and mental stressors the applicant would experience if he/she returned to work; and
a list of all doctors, hospitals and clinics that treated the applicant for the debilitating medical condition, including an account of all tests performed and medications prescribed.
Appeals
One important point to know about this process is that each step takes a considerable amount of time, and patience is needed to get through it. An applicant does have the right to appeal a denial of benefits. However, there are many layers to the SSDI appeals process, and it is best to hire a disability insurance attorney to handle this aspect of the application procedure to give an applicant the best chance of getting approved.
Contact a Florida Disability Law Attorney
Seeking disability benefits from the government is a trying process, but an attorney experienced in this area can take away some of the unavoidable stress. At Farrell Disability Law, representing clients throughout Florida, we understand how essential this money is, and will fight to get you approved at the earliest possible stage. Contact the office for a free consultation.
Resource:
ssa.gov/pubs/EN-05-10029.pdf