The Struggles Of Being Denied Social Security Disability Benefits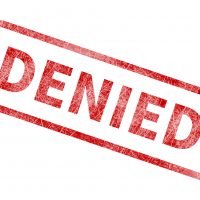 Social Security Disability Insurance (SSDI) provides eligible individuals with financial support to compensate for the individual being unable to work as a result of a disability. The process to become an eligible recipient requires the filing an application with the Social Security Administration (SSA). This application is examined by the SSA to ensure that the financial support is limited to those individuals who meet the SSA definition of disabled. As a result, many applications are initially denied, and having the expertise of an attorney experienced in the nuances of the SSDI process can be crucial to successfully securing approval on appeal. Recently, a study analyzed the struggles of elderly individuals who were denied SSDI benefits due to their Residual Functional Capacity (RFC), and specifically focused on their efforts to return to work. In many cases, they were unable to return, and, for those who did, their average wages were depressed as compared with before their SSDI Application. A discussion of denial of SSDI benefits on the basis of RFC, and specific effects of these denials on the elderly, will follow below.
Residual Functional Capacity
During an SSDI application, the SSA examiner will endeavor an analysis of the applicant's ability to work. That is, the examiner will determine, taking into account the limitations of the applicant's condition, what level of exertion the applicant is capable of performing, and how existing restrictions limit the jobs he/she, in fact, can perform. An individual's RFC determines whether he/she can be expected to perform at the following levels of work:
The ability to lift no more than 10 pounds at a time, and occasionally lift or carry things like files or small tools.
The ability to lift up to 20 pounds occasionally, and frequently lift or carry up to 10 pounds.
The ability to lift up to 50 pounds at a time, and frequently lift or carry up to 25 pounds.
The ability to lift up to 100 pounds at a time, and frequently lift or carry up to 50 pounds.
Very Heavy. The ability to lift objects that weigh more than 100 pounds, and frequently lift or carry 50 pounds or more.
An RFC will also include any non-exertional restrictions, such as not being able to stoop, or use one's fingers. Additionally, an RFC will encompass mental faculties as well, such as whether the applicant can:
Maintain concentration and attention at work for extended periods of time;
Understand and remember instructions and carry out duties throughout the day;
Get along with others in the workplace;
Cope with changes in the workplace; and
Respond appropriately to supervisors, co-workers, and usual work situations.
The Struggles of Elderly on RFC Denials
As alluded to above, prospects for elderly individuals who are denied benefits due to RFC are dim. Although studies have shown that most of these applicants worked five years before applying for SSDI benefits, but very few worked five years afterwards. As a result, employment rates fell. In fact, unemployment rates fell most steeply for the rejected applicants who came closest to qualifying; that is, those deemed to be too severely impaired to do their past work, but still considered capable of switching to other work. An experienced SSDI attorney can help to ensure that the applicant is given his/her best shot at securing the financial support for his/her disability.
Get Help
If you have been denied for SSDI benefits, and are curious about any options you may, contact an experienced SSDI benefits attorney to help you navigate the application and appeals process. The legal team at Farrell Disability Law have the experience to analyze your case, and, if we believe there is a legitimate chance at approval, will help you develop a strategy and get you the benefits you deserve. Contact our Jacksonville office today.
Resource:
mathematica-mpr.com/our-publications-and-findings/publications/do-older-ssdi-applicants-denied-benefits-on-the-basis-of-their-work-capacity-return-to-work