What Happens At An ALJ Disability Hearing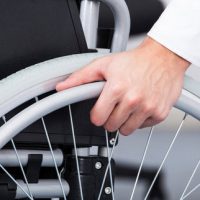 Waiting to learn of a decision on one's disability claim through the Social Security Disability Insurance (SSDI) program is one of the most nerve-wracking aspects of the whole process. While claimants are rightfully asking for the opportunity to access benefits they paid into the system for years, getting approval for SSDI benefits is known to be highly difficult. The Social Security Administration's (SSA) definition of disability is quite strict and narrow, so proving an inability to work due to debilitating physical and/or mental conditions requires planning and copious documentation. Due to the high scrutiny all SSDI claims receive, the vast majority are repeatedly rejected, and do not receive fair consideration until the disability hearing in front of an Administrative Law Judge (ALJ). The big issue for most claimants, though, is reaching the ALJ stage. Due to huge backlogs, getting a hearing scheduled can take years.  Given that this hearing is a claimant's best opportunity to be approved, understanding what will happen, and how to prepare for this pivotal meeting, is essential information for all SSDI claimants.
What to Expect at the Hearing
The primary purpose of an ALJ hearing is to reassess a previously-denied SSDI claim using evidence already submitted, as well as any new evidence a claimant may have to bolster his/her argument in favor of disability. This meeting is somewhat informal, with the judge directly questioning the claimant about his/her limitations, although the claimant is always permitted to have legal representation, and an attorney is almost essential at this stage to succeed. In addition, an SSA doctor and vocational expert may be physically present or available via telephone to testify about their opinion of the claimant's limitations and ability to return to work. The claimant is also allowed to bring his/her witnesses, usually family and other caretakers who can speak on the restrictions and symptoms the person experiences daily. The most important aspect of the hearing is often the hypotheticals proposed by the ALJ to the vocational expert on the claimant's ability to perform certain types of work based on his/her limitations. Asking pointed questions to dispute an expert's claim that work is possible is one of the main reasons an attorney should be present, and can have a direct effect on the outcome. Note that these hearings may last for as little as 15 minutes, so showing up on time, and being prepared to speak, is key to presenting the best case possible.
Preparation
The most critical aspect of preparing for the disability hearing is ensuring the ALJ has the most up-to-date medical evidence available, ideally that evidence within the 90 days preceding the hearing, in advance, so he/she can review the information. In addition, a statement from a treating physician about the claimant's medical condition, limitations and prognosis for improvement should be provided. The claimant should also review his/her disability file to determine why there was a denial, and familiarize himself/herself with his/her medical history, which typically spans years, as well as his/her work history. It may seem counterintuitive to review this information since it is one's own history, but it is easy to forget information as time passes and additional data accumulates.
Speak with a Disability Insurance Attorney
Obtaining approval for SSDI benefits is an important matter, and should be handled by an experienced disability insurance attorney who knows how to best present your case. Farrell Disability Law has decades of knowledge and skill with disability claims, and is available to discuss the merits of your case. Get the money you deserve, and contact the Jacksonville law firm for a free consultation.
Resource:
dailyherald.com/news/20180113/constable-2xbd-years-after-applying-for-social-security-disability-finally-a-hearing