What To Do When Long-Term Disability Claims Are Denied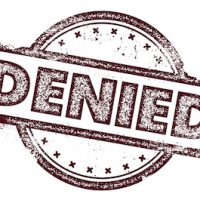 Many adults possess a long-term disability (LTD) policy, either provided by their employer or through the purchase of a policy on their own. Insurance agents who sell these plans always seem to have the answer to any question they hear from the customer. The agent's claim that a policyholder has a greater chance of being disabled on a long-term basis these days than suffering a catastrophic, although short-term, injury, and that these policies are intended to provide income when working for extended periods is not possible. So, trusting the agent, the policy is purchased, and regular required payments are made on time. When benefits are needed, the policyholder is told to fill out some paperwork, which is done. But, to one's surprise, the claim is denied. Unfortunately, this is a bad situation, as the policyholder cannot work, and lacks money for basic needs. This recently happened to a San Diego medical professional, who, upon contracting Lyme disease, filed for LTD benefits pursuant to her agreement with her insurer. Although the insurer initially allowed the benefits, after a review, the benefits were denied. A discussion of the available options, in response to a denial of LTD benefits, will follow below.
Your Rights
If a claim for LTD benefits has been denied, there are options. Most, if not, all LTD policies provide for one or more appeals. It is not unusual for a claimant to receive benefits via the appeals process. While it may seem counterintuitive for the same insurance company to deny a covered individual and then approve him/her on appeal, it should be noted that appeals are typically evaluated by an appeals department, which is most likely made up of different people than those who initially denied the claim. Thus, your first strategy is to exhaust all appeals through the insurance company. In fact, if the LTD policy is provided through an employer, exhausting administrative appeals is required under federal law.
Your Denial Letter
Typically, the denial letter is supposed to indicate the exact reasons why the claim for LTD benefits was denied. Having this information helps to strategically plan an appeal. Also, the denial letter will indicate specifically how to file the appeal, as well as deadlines and any other items required to be included with the appeal. A knowledgeable disability law attorney can help organize and file the appeal, because failure to meet even one of these requirements can be cause for a second denial.
Your Record
Immediately after receiving the denial, the policyholder should request a copy of his/her file from the insurance company. Similar to the denial letter, information contained in one's file will help to strategically prepare an appeal. It is important, at this stage, to supplement any omissions or inaccuracies in the record by submitting additional evidence while the appeal is pending, and an experienced disability law attorney will know exactly how to do this. A complete record is essential, because after one has exhausted the appeals process with the insurance company, and then decided to pursue the denial through the court system, the record will be considered closed, and no further information may be added.
Get Help
While you are able to secure legal representation at any stage in this process, it is better to do it as early as possible. The insurance company will not hesitate to use your unfamiliarity with the process against you, and a missed deadline, or the omission of a necessary step, will doom your claim. Having an experienced disability law attorney on your side will improves your chances of success, as he/she will know how to draft an effective appeal, and what kinds of evidence to submit. The legal team at Farrell Disability Law have the knowledge and skill necessary to advocate on your behalf so that you will have a better chance of success. Contact our Jacksonville office today.