5 Ways the Employee Retirement Income Security Act (ERISA) Impacts Your Long-Term Disability Claim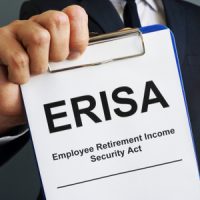 Long-term disability benefits can provide you with much needed income in the event an injury, illness, or chronic health condition prevents you from working. While these benefits may be provided through your employer as part of your overall compensation package, getting your claim approved can be a difficult process. Federal laws provide guidelines in these cases, which can have positive impacts on your claim.
How ERISA Impacts Your Rights To Benefits
The Employee Retirement Income Security Act of 1974 (ERISA) is a complex federal law which applies to various types of benefits provided to workers through private employers. It governs how benefits are administered and the process for appealing denied claims. As denials of long-term disability benefits are a common practice, it is particularly pertinent in these cases. The following are five important rights you have under ERISA:
The right to receive copies of all plan related documents. Under ERISA, employers must provide copies of documents detailing the terms of any long-term disability insurance policies in place, free of charge and at the employee's request. This can help you determine the terms of your coverage and basic eligibility for benefits. It is generally the first step in filing a claim.
The right to appeal a denied claim. It is not uncommon for insurers to find reasons to deny your claim. As for profit-businesses, they have a financial motive to do so. Under ERISA, you have at least 180 days after being notified of the denial to file an appeal.
The right to be notified of the status of your appeal in a timely manner. In addition to denying claims, lengthy delays are another common practice among insurers. ERISA provides strict guidelines which must be followed, requiring insurers to notify you of their decision within 45 days. In cases where additional information is required, they may request a 45 day extension. However, 90 days is the maximum amount of time they are allowed.
The right to view all documents related to their decision. In addition to requiring your employer to provide you with copies of all documents related to your coverage, ERISA also requires insurers to provide you with copies of all documents related to any decisions made in your case.
The right to take your case to court. If your long-term disability claim continues to be denied following your appeal, ERISA gives you the right to file a civil lawsuit against the insurer. As ERISA is a federal law, this type of lawsuit must be filed through the Florida Federal Court. This allows your case to be presented before a judge, who will make a final determination regarding your rights to disability benefits.
Let Us Help You Today
To find out more about the disability claims process and how ERISA impacts your case, reach out to Farrell Disability Law. Contact our Jacksonville long-term disability attorney to request a consultation in our office today.
https://www.mydisabilitylaw.com/when-accidental-injuries-result-in-long-term-disabilities/