Does Your Chronic Medical Condition Make Your Eligible For Social Security Disability Benefits?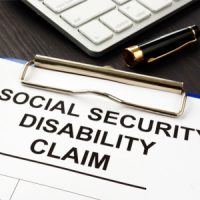 Chronic medical conditions can rob you of your health and leave you suffering long term disabilities that prevent you from engaging in your favorite activities with family and friends. Your condition can also leave you unable to work, impacting your ability to provide for yourself and your loved ones. Social Security disability benefits can help offset lost income you suffer. Find out if you are eligible for these benefits.
Social Security Benefits For Long Term Disabilities
Among the taxes the Internal Revenue Service (IRS) requires be deducted from your paycheck, a percentage is to pay for Social Security benefits. This helps to ensure you are entitled to retirement benefits once you reach a certain age. They also cover Social Security disability insurance (SSDI), which protects you in the event a long term disability prevents you from working and providing for yourself and your family.
A long term disability is one that is expected to last at least a year or longer. Disabilities are often caused by accidental injuries or unexpected illnesses. They can also happen as a result of chronic medical conditions. Provided you have worked long enough to have accumulated the required number of credits, you may be entitled to monthly benefit payments. These generally comprise about 60 percent of your income, with average benefits amounts in the vicinity of $1,400 and maximums of roughly $3,000.
Chronic Medical Conditions Covered By Social Security Disability Insurance (SSDI)
Provided you meet other eligibility requirements, you may be entitled to disability benefits for a chronic medical condition if it is listed under the Social Security Administration (SSA) Listing of Impairments.  Common types of chronic conditions covered include:
Cardiovascular system disorders, such as high blood pressure, heart disease, heart failure, and coronary heart disease;
Digestive disorders, such as inflammatory bowel disease, Gastroesophageal Reflux Disease (GERD), chronic ulcers, and liver disease;
Immune disorders, such as rheumatoid arthritis, lupus, and Multiple sclerosis (MS);
Mental health disorders, such as post-traumatic stress, manic depression, or anxiety;
Musculoskeletal disorders, such as osteoarthritis, rheumatoid arthritis (RA), and fibromyalgia;
Neurological disorders, such as cerebral palsy, epilepsy, and Parkinson's disease;
Respiratory disorders, such as asthma, Chronic obstructive pulmonary disease (COPD), and cystic fibrosis.
If you are diagnosed with a chronic medical condition, it is important to see your doctor regularly and follow their advice regarding diagnostic tests, treatments, medications, and work or activity restrictions. Keep copies of all medical records and a journal detailing your symptoms and the impact they have on your personal life, as well as on your ability to work.
Let Us Help You Today
Chronic medical conditions can have major impacts on every area of your life. If you are unable to work, Farrell Disability Law may be able to assist you in obtaining SSDI benefits, which can help offset lost income To discuss your citation, call or contact our Orlando Social Security disability attorney online and request a consultation in our office today.
https://www.mydisabilitylaw.com/what-happens-at-a-social-security-disability-hearing/