Four Ways to Maximize Your Social Security Disability Benefits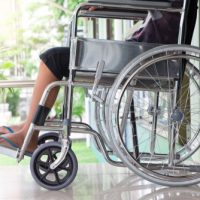 If you become disabled and are unable to work, you may be entitled to Social Security disability benefits. Unfortunately, many claimants fail to get the maximum amount they are entitled to. Regardless of your current health, there are some steps you can take to ensure you get the benefits you need and to maximize the amount.
Increase Your Earnings
SSDI benefits are available through the Social Security Administration (SSA) for people who are unable to work due to long term disabilities. One of the simplest ways to maximize the amount you may be entitled to is to increase your earnings over the course of your career and before a disability occurs.
The SSA uses a complex formula in determining the amount of SSDI benefits you receive. It is based on your years of employment as well as your earnings. For every year you work and earn a certain amount of money, you receive work credits. In 2019, you are entitled to one credit for every $1,360, up to four credits a year. Asking for a raise or obtaining a side job now can help increase your benefits if you eventually become disabled.
File As Soon As Possible
The same as earning more can help increase the amount of benefits you receive through the SSA, gaps in the amount of time you work can decrease the amount you get. You want to work as many years as possible before getting sidetracked by a disability. However, once your condition worsens and begins causing you to lose large chunks of time on your job, you should immediately begin the process of filing your claim.
Take a Part Time Job
Many people are unaware of the fact that they can work while obtaining Social Security disability benefits. Under SSA guidelines, you can earn up to $1,220 for basic disabilities and up to $2,040 if you are blind provided you are not engaged in what the SSA considers substantial gainful activity. This is generally considered as work that others who are not disabled would be capable of performing. Small side jobs which allow you to take frequent breaks and performing relatively minor tasks designed to accommodate your disability are generally allowed.
Get Help In Filling Out Your Application
One of the biggest reasons people fail to get the amount of SSDI benefits they are entitled to involves not filling out the application property. You need to be sure your condition meets SSDI criteria and is carefully documented through various medical providers. You also want to be specific in describing the impacts it has on your life and your inability to work.
Contact Us Today for Help
At Farrell Disability Law, we have extensive experience in dealing with the SSA and in helping clients get the maximum amount of SSDI benefits they are entitled to. To discuss how we can assist you, contact our Jacksonville Social Security disability attorney today and schedule a consultation in our office.
https://www.mydisabilitylaw.com/qualifying-for-social-security-due-to-mental-health-impairments/