Mental Health Disorders and Your Rights To Disability Benefits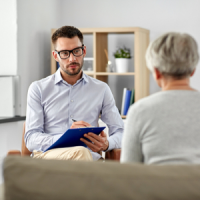 Despite the large number of people who struggle with mental health issues and efforts to raise public awareness, there is still a stigma involving these disorders that can make sufferers not want to disclose their situation or seek the care they need. Not talking about your condition or failing to get the medical care you need could prevent you from receiving the long-term disability benefits you deserve.
Long-Term Disability Benefits For Mental Health Issues
Mental health issues are a common problem for people of all ages. According to the National Institutes of Mental Health (NIMH), roughly one out of every five adults is affected. These can impact your abilities on the job, jeopardizing your financial security and making it difficult to meet monthly expenses.
When mental health disorders keep you from working, long-term disability (LTD) insurance benefits available through your employer can provide a lifeline. Common types of mental health disorders that may make you eligible for LTD benefits include:
Alcohol and drug disorders;
Anxiety and panic attacks;
Bipolar disorder;
Chronic depression;
Personality disorders;
Post traumatic stress disorder (PTSD);
Mental health issues that result from Traumatic Brain Injuries (TBI).
How To Get The Disability Benefits You Are Entitled To
While people are often embarrassed and reluctant to reveal they struggle with mental health issues, it is important to address the situation with your doctor right away. In addition to offering treatment options to help reduce or alleviate your symptoms, this is a necessary step in documenting your illness so that you can obtain long-term disability benefits.
Once you obtain a firm diagnosis from your doctor, other steps that can help protect your rights in filing a claim include:
Request a copy of your long-term disability insurance policy. Under the Employee Retirement Income Security Act of 1974 (ERISA), your employer is required to provide copies of all policy-related documents, free of charge and at your request.
Make sure you are eligible for LTD benefits and that your condition is covered. Review policy guidelines and any exclusions to ensure you are entitled to LTD benefits.
Keep copies of medical records and follow your doctor's instructions. Obtain any recommended diagnostic testing or treatment your doctor advises and follow their instructions regarding work and activity restrictions. Keep thorough records regarding your visits.
Keep a journal detailing your symptoms and the effects on your life. Detail the symptoms you suffer as a result of a mental illness and how they impact both you both on the job and in your personal life.
Let Us Help You Today
When mental health issues impact your ability to work, Farrell Disability Law acts as a strong legal advocate on your side. We can guide you in filing a LTD claim, helping you get the maximum amount of benefits you are entitled to. Reach out and call or contact our Jacksonville long-term disability attorney online and request a consultation in our office today.
https://www.mydisabilitylaw.com/how-long-do-long-term-disability-ltd-benefits-last/