The Five-Step Process for Determining Eligibility for Social Security Disability Benefits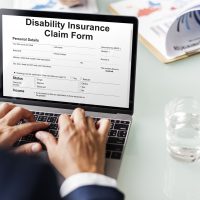 Social Security disability benefits can provide a safety net when health issues keep you from being able to perform tasks on your job. Getting monthly benefits deposited into your bank account can help ensure your bills and basic living expenses are met. Unfortunately, qualifying for these benefits and passing determination hearings proves challenging for most people. Understanding the five-step evaluation process the program uses can help you be better prepared.
How Social Security Disability Determinations Are Made
You can apply for disability benefits through the Social Security Administration (SSA) either via mail, online, by phone, or in-person at your local office. You are responsible for submitting information about yourself and your medical condition. This includes the names, phone numbers, and addresses for doctors you have visited, diagnostic tests and treatments you have received, and any medications you are taking. This is used to determine your medical eligibility.
The SSA is responsible for gathering information to program eligibility, such as your age, citizenship status, marital status, living situation, and employment. This includes your work history and whether you have accumulated enough credits to be eligible for benefits. If the SSA requires additional medical information beyond what you have supplied, you may be scheduled for a consultative examination (CE) either through your own doctor or through an independent source.
Once the appropriate information is gathered, it will be evaluated by SSA administrators. This is known as the sequential evaluation process. Under SSA regulations, the following five areas are subject to review:
Any current work activity you are engaged in;
The severity of your impairment(s),
Whether your impairment meets SSA guidelines or medically equals a listed condition;
Your current ability to perform relevant work you undertook in the past;
Your residual functional capacity, which is your ability to perform other work based on your age, education, and work experience.
Common Problems That Can Arise in the SSDI Evaluation Process
According to the Urban Institute, as many as 24 million disability claims are filed with the SSA each year. Unfortunately, over half of these end up being either denied or delayed. There are numerous problems that can arise throughout the SSA's five-step evaluation process that can impact your eligibility. These include:
Current earnings and wages that exceed that maximum amount allowed by law ( in 2019, this was $1,260 per month);
A determination that your disability does not prevent you from engaging in 'substantial gainful activity';
Disabilities that are not included in SSA's listing of medical impairments;
A determination that while you may be disabled, you are still able to perform 'work that exists in the national economy'.
If your claim is denied for any of the above reasons, you have the right to file an appeal.
Let Us Help You Today
At Farrell Disability Law, we help clients overcome roadblocks that stand in the way of disability benefits. To discuss how we can assist you, call or contact our Jacksonville Social Security disability attorney online to request a consultation in our office today.
Resource:
ssa.gov/disability/professionals/bluebook/AdultListings.htm
urban.org/sites/default/files/publication/100710/improving_the_social_security_disability_determination_proces_0.pdf
https://www.mydisabilitylaw.com/protect-yourself-against-five-common-causes-of-long-term-disabilities/