What Happens When Social Security Disability Benefits Are Denied?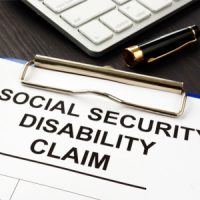 Social Security disability insurance (SSDI) can help offset losses in income if you are unable to work due. However, obtaining these benefits is often a challenge, with over half of all Social Security disability claims being denied each year. Whether you are filing a claim or have already received a denial notice, it is important to be aware of your rights in filing an appeal.
Denied Social Security Disability Benefits?
According to statistics from the Social Security Administration (SSA), roughly 53 percent of all disability claims end up being denied each year. If this happens, you will be notified via a denial letter, which should contain a brief description of your condition, the impairments you suffer as a result, medical and nonmedical records the SSA used in making their decision, and the explanation of the denial itself. Among the most common reasons for denied SSDI benefits include:
Your impairment is not expected at least 12 months, which is a requirement for receiving benefits;
The impairments you suffer are not considered severe enough to prevent you from working;
You continue to be able to perform tasks on your job or work in another field;
You failed to submit the appropriate forms, medical records, or other documentation of your condition.
If the letter you receive does not include a full rationale for the denial, you have the right to request this information from the SSA. You also have the right to appeal your denied claim, providing you make the request within 60 days.
The Social Security Disability Appeals Process
The Social Security disability appeals process is complex. To avoid errors that could jeopardize your rights to benefits, it is important to get an experienced Social Security disability attorney on your side. Once you submit a request for an appeal, there are four levels your claim may go through before a final decision is reached:
Reconsideration: This involves a complete review of your SSDI claim by someone who did not take part in the original decision. They will consider all the information you provided as well as any new evidence submitted in making a determination.
Hearing by an administrative law judge: If your claim continues to be denied, you may request a hearing before an administrative law judge. During this hearing, each side will have an opportunity to provide evidence in support of their case.
Review by the Appeals Council: If the administrative law judge rules against you, you have the right to have their decision reviewed by an appeals council.
Federal Court review: If you continue to be denied SSDI benefits, you have the right to file a lawsuit through the federal district court.
Let Us Help You Today
Social Security disability benefits allow you to continue to provide for your family when you are unable to work. At Farrell Disability Law, we take the legal actions needed to help you get the benefits you deserve. Contact our Orlando Social Security disability attorney to request a consultation in our office today.
https://www.mydisabilitylaw.com/dos-and-donts-when-dealing-with-long-term-disability-insurers/