What Is a Bad Faith Lawsuit and How Does It Apply to Long-Term Disability?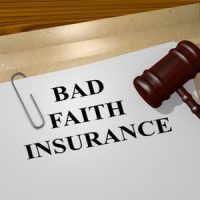 Long-term disability insurance gives you some security in the event injuries or illnesses prevent you from working. As long-term disability (LTD) benefits offset the losses in income you suffer, it can be devastating to you and your loved ones to have these benefits denied. Without a legitimate reason for taking this type of action, insurers may be legally liable.
How Does 'Bad Faith' Apply To Long-Term Disability Benefits?
When you were hired by your employer, they likely briefed you on the types of benefits the company offered. In general, details regarding these matters should have been included as part of your employee handbook. Specific information on any long-term disability benefits available may have been listed in separate documents. If you were not provided with these, you have the right to request a copy of them from your employer at any time and free of charge under the Employee Retirement Income Security Act of 1974 (ERISA).
It is important to review these documents, which detail the terms of your coverage. Pay close attention to the following areas:
Which employees are entitled to coverage;
When eligibility begins;
Any waiting periods or other stipulations that apply;
The total amount of benefits you are entitled to receive;
Any exclusions that could prevent you from receiving LTD benefits;
Your rights in appealing denied or disputed claims.
These documents act as a contract between you and your insurer. If the insurer acts unreasonably and fails to live up to their end of agreements, such as denying benefits for reasons not permitted through your policy, the insurer could be subject to a lawsuit.
Filing A Bad Faith Insurance Lawsuit
There is, technically, no "bad faith" cause of action for ERISA plans. Rather, the insurer's actions are reviewed under a similar standard, in which the court determines if the insurer's actions were "arbitrary and capricious."  Insurance companies are for-profit businesses. One of the ways they protect their bottom line is by finding reasons to avoid paying out on claims. For non-ERISA plans, which are not sponsored by an employer, there are strict rules and requirements under the Florida Statutes that insurers must follow, which serve to protect consumers. Examples of bad faith insurance practices for which they could face liability include:
Failing to properly investigate your claim;
Failing to meet deadlines in denying or approving benefits;
Failing to notify you of the reasons for the denial;
Failing to adhere to other terms of the policy.
When insurers deny, delay, or dispute your LTD benefit payments without a valid reason and in violation of your policy, you can take them to court. In addition to receiving the total amount of long-term disability benefits you are entitled to, the insurer could be subject to penalties and may have to pay additional damages as part of any judgments in your case.
Let Us Help You Today
Insurers have teams of attorneys on their side, ready to defend them against claims. Get our legal team at Farrell Disability Law on yours. Call or contact our Orlando long-term disability attorney office today to request a consultation in our office.
https://www.mydisabilitylaw.com/six-behind-the-scenes-reasons-for-a-long-term-disability-claim-denial/